Braidwood Lake
Will County, IL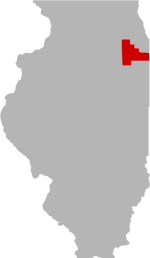 SHARE THIS PAGE
Braidwood Lake is located in Will County approximately 1.25 miles south of the Village of Braidwood adjacent to U.S. Route 53.
Braidwood Lake is a 2,640 acre, partially perched cooling lake. When impounded in 1981 several old strip-mine pits were flooded within the lake proper. No horsepower limitations; maximum speed limit is 40 mph except in designated "no wake" and "hazard" areas; working gasoline engine required as main propulsion unit; boats under 14' are not recommended. County Line Road Access (south access) has a four-lane concrete boat ramp with 35 car/trailer parking. An additional 75+ car lot is located adjacent to the ramp area. Cemetery Road Access (north access) has a two-lane concrete boat ramp with parking for 35 car/trailers. A majority of the shoreline is open to bank fishing, and these areas are clearly marked. Access to the interior islands by anglers is prohibited. Steep drop-offs, rock piles, man-made habitat, current and thermal breaks and woody cover are all present. The nature of this lake requires extreme care in boating and a good topographic map is well worth the expense.
Swimming, wading, water skiing and sail boating are prohibited. Braidwood Lake is open to fishing daily from 6:00 a.m. till sunset from March 1 until ten days prior to the opening of the waterfowl season (central zone). All fish species — two pole and line fishing only. Portions of Braidwood Lake are restricted to unauthorized access; these areas are clearly marked. Bank fishing boundaries are posted. Since windy conditions can produce treacherous waves, the lake can be closed at the discretion of the site superintendent.

Site Regulations:
Largemouth or Smallmouth Bass: 15" minimum length limit; 3 fish daily limit
Hybrid Striped Bass: 3 fish 17" or longer; 10 fish daily limit
Unrestricted
Boat Landing
Camping
Swimming
Boat Rentals
Picnicking
Skiing
Blue Catfish
Bluegill
Channel Catfish
Flathead Catfish
Hybrid Striped Bass
Largemouth Bass
Redear Sunfish
NOTE: This list may not be all inclusive of all speices present in Braidwood Lake.
BLUE CATFISH
GOOD
Blue catfish stockings were initiated in 2003 and, with few exceptions, have occurred annually to 2018. None were stocked in 2019. Fall sampling has generally provided an inadequate sample of the population for the most part and ancillary electrofishing/netting is needed to obtain a more accurate assessment. The 2019 survey results fell short from the previous survey as a total of 35 blue catfish were collected ranging from 8.3" to 30.3" at an average length of 17.4". Length frequency distribution, while somewhat spotty, does indicate the presence of multiple year classes.
BLUEGILL
FAIR
Found throughout the lake, bluegills are more commonly collected in or near rip-rapped shorelines. Larger fish seem to be in decline, as the average size bluegill in the 2019 survey was 5.0". Bluegills larger than 7" are generally uncommon in fall surveys but are occasionally caught by anglers.
CHANNEL CATFISH
GOOD
A combination of very successful natural reproduction and high survival of young fish leads to a population dominated by smaller fish. Channel catfish collected in the 2019 survey ranged from 5" to 28" and 14 lbs. As it has been for the past several years, the average size is just over 12" and ½ pound.
FLATHEAD CATFISH
FAIR
Flathead catfish were stocked several years ago and a remnant population exists today.
HYBRID STRIPED BASS (WIPERS)
GOOD
The hybrid striped bass stocking program began in 2011 and with the exception of 2013, fingerlings (primarily 1"-plus) were stocked annually to 2016. Due to declining shad numbers, stocking ceased until the forage base showed improvement. Once this occurred the stocking program was reinstated and in 2019 Braidwood Lake received multiple stockings: 25,815 1.3" fingerlings from the state hatchery system, and from Exelon's Quad Cities hatchery 9,378 4" fingerlings, and 180 10" fish. The lack of hybrid striped bass in surveys since 2016 shows how dependent this fishery is upon annual stockings. The few which were collected in the 2019 fall survey were cohorts from the releases earlier that same year, as well as survivors from past stockings.
LARGEMOUTH BASS
EXCELLENT
After declining to a ten year low in 2013, the largemouth bass collection had shown steady improvement. That changed slightly in 2019 as the total number of largemouth bass which were collected declined, although catch rates and the number of quality size bass exceeded the long term averages. Bass which were less than 8 inches accounted for 45.8% of the total collected, which is very close to what was observed in the 2017 survey. Bass which were 8" and larger declined but remained higher than the long-term average. The density of smaller bass (those which were 8" and less) is largely due to the annual stocking program which, during 2018 and 2019, contributed a total of nearly 86,000 fingerlings to the population. Less than desirable recruitment resulted in a decline in the density of quality size bass. Bass which are 18 inches and larger remain somewhat rare in these fall collections. In 2019 a total of 28 bass tournaments were approved for Braidwood Lake. No tournaments are permitted in March or during the summer months. An estimated 9,382 hours of angling effort was expended by tournament bass fishermen in 2019 which resulted in a total of 1,326 bass being weighed in. Tournament catch averaged 47.3 bass per event. The average size for the "biggest" bass in these tournaments was 4 pounds 8 ounces.
REDEAR SUNFISH
FAIR
Excess production at the IDNR hatchery systems has allowed for the stocking of redear sunfish on a few occasions, and while not as prevalent as bluegill, larger specimens are caught.
HISTORY AND STATUS OF FISHERY
The fishery is evaluated via biennial major surveys and species-specific ancillary surveys. Fish habitat enhancement has been conducted for several years and most recently involved the installation of commercially made units. Braidwood Lake supports a persistent phytoplankton bloom that suppresses rooted aquatic vegetation.
Braidwood Lake receives annual stockings of largemouth bass, blue catfish and most recently hybrid striped bass. Excess production at the IDNR hatchery systems has allowed for the stocking of redear sunfish on a few occasions, and while not as prevalent as bluegill, larger specimens are caught.Flathead catfish were also stocked several years ago and a remnant population exists today.
No special mercury advisory or other contaminant-related consumption advisories pertain.
Braidwood Lake is maintained by periodically pumping water from the Kankakee River. As a result, the lake supports a variety of fish species which include common carp, quillback, freshwater drum and others. Braidwood Lake is supported by a thriving gizzard and threadfin shad forage base as well as various other minnow species.
CONTACT / CONTROLLING AUTHORITY
Mazonia/Braidwood State Fish and Wildlife Area
815-237-0063
IDNR Fisheries Biologist, Seth Love
630-360-4772
NOTICE: Lake-Link Inc assumes no responsibility or liability for any errors or omissions of the information for Braidwood Lake. Although we strive to provide the most accurate information as we can the information contained in this page is provided on an "as is" basis with no guarantees of completeness, accuracy, usefulness or timeliness.