Kewaunee Pier, Kewaunee County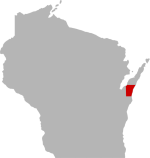 SHARE THIS PAGE
DISPLAYING 1 TO 10 OF 715 POSTS
FILTER OPTIONS
9/30/18 @ 7:38 PM
FISHING REPORT
MOON PHASE (69%)
Waning Gibbous
Not many reports for from Port Washington to Kewaunee & in between. Has everyone given up fishing or just not feel like sharing ?
I think there's still some good fish to be had out there. I finally caught my first salmon today, was fishing off the pier lake side. It's not a monster & I've foul hooked lager fish, but I'll take it. It was a tagged fish, tired the marina but they were closed, so tried my luck at the fish collection place on the river, lucky there was someone there & they took the head.
Hit the river for a bit, some good and bad fish being taken. Some lucky fellow got a nice coho. Interestingly enough another guy foul hooked into a smaller pink salmon, must not be common there because I was the only one who knew what it was. The DNR was there doing their survey but left before the pink was, bet they would have like to know about the pink.
I only foul hooked again, which was foul hooked twice before, there's a treble w yarn in it, & it has my yarn egg, line broke just as I was reaching for the hook.

9/22/18 @ 9:19 PM
FISHING REPORT
MOON PHASE (94%)
Waxing Gibbous
Washed lures for a few hours today. Just as I was leaving, right by shore one was caught, couldn't see where it was hooked the hook was out when it came in, but had a nasty gash on it's side so.
Tried the river, 1 guy had 3 zombies & foul hooked one, I foul hooked one, saw some guy pull in one that was still pretty silver.
Seemed like a slow day given the amount of people that were out.

9/20/18 @ 5:16 PM
FISHING REPORT
MOON PHASE (83%)
Waxing Gibbous
Was out on Tuesday, fish are in the river all the way up to the bridge. Foul hooked a zombie, never catching one before I now understand why they call them zombies.
Saw a smaller rainbow caught off the pier, looked like a boat netted one, & I had one on but it spit the hook.

DISPLAYING 1 TO 10 OF 715 POSTS