Cedar
Wright County, MN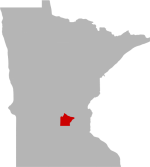 SHARE THIS PAGE
Cedar is located in
Wright County, Minnesota
. This lake is 790 acres in size. It is approximately 108 feet deep at its deepest point. When fishing, anglers can expect to catch a variety of fish including Black Bullhead, Bluegill, Brown Bullhead, Green Sunfish, Largemouth Bass, Northern Pike, Rock Bass, Walleye, Yellow Bullhead, Yellow Perch, Pumpkinseed,.
Black Bullhead
Black Crappie
Bluegill
Brown Bullhead
Green Sunfish
Largemouth Bass
Northern Pike
Rock Bass
Walleye
Yellow Bullhead
Yellow Perch
Banded Killifish
Blacknose Shiner
Bluntnose Minnow
Bowfin
Brook Silverside
Carp
Cisco (Tullibee)
Emerald Shiner
Fathead Minnow
Golden Shiner
Hybrid Sunfish
Pumpkinseed
Spottail Shiner
White Sucker
NOTE: This list may not be all inclusive of all speices present in Cedar.
HISTORY AND STATUS OF FISHERY
Cedar Lake is an 837 acre lake located two miles east of Annandale in Wright County. Cedar Lake has a maximum depth of 108 feet and a small watershed dominated by agriculture, open water and forest. Three public accesses are located on the north end of the lake: a DNR ramp on the northwest corner with limited parking, a county access within Schroeder Park with ample parking, and a small township access east of Schroeder Park with little room to park. Cedar Lake is primarily managed for Northern Pike and Walleye and was last surveyed in 2006. Anglers can expect good fishing for Largemouth Bass, Northern Pike and Walleye.

Emergent vegetation was common around the lake shore, primarily bulrush, cattail, and waterlily. No submergent plant survey was done in 2014, but coontail and sago pondweed were the dominant species in 2006. Eurasian watermilfoil is present and was first discovered in 2010. Water clarity was good; Secchi depth was 6.5 feet in early July and MPCA data show a summer average of 6.5 feet over the past ten years.

Walleye numbers have increased from 2006 and are at the high end of expected values for similar lakes. Walleye lengths ranged from 7.2 to 28.0 inches with an average length and weight of 19.1 inches and 2.8 pounds. Walleye ages ranged from 1 to 13 years old with most fish between 3 and 7 years old. Growth was above average, reaching 16 inches in three years. Walleye fingerlings have been stocked every other year for many years and the lake association has recently stocked fingerlings in years that the DNR does not stock.

Northern Pike catches have been consistently high in recent surveys; the catch in 2014 and 2006 were well above the range of expected values for similar lakes. Northern Pike lengths ranged from 17.4 to 34.4 inches with an average length and weight of 22.1 inches and 2.3 pounds. Northern Pike were mostly small; only 16% were 24 inches or longer.

Largemouth Bass were abundant in late May while boat electrofishing at night. The catch rate of 132 per hour was over two times the Montrose Area average nighttime catch of 59 per hour and similar to 2006 (125/hour). Lengths ranged from 6.5 to 19.3 inches with an average length of 13.4 inches. Of catchable size fish (>8 inches), 30% were longer than 15 inches.

Bluegill numbers were similar to previous surveys and within the range of expected values. Lengths ranged from 3.2 to 9.0 inches with an average length of 5.7 inches. Black Crappie numbers were low and below the expected range of values. Lengths ranged from 3.8 to 12.8 inches with an average length of 9.8 inches. Black Crappie catches have always been low, despite a reputation that Cedar is a good crappie lake. The lake has a large amount of deep water, likely making summer nets less effective; netting in shallow water around spawning time would probably be more effective.

Yellow Perch catches in recent surveys have been low. Lengths ranged from 5.4 to 8.7 inches with an average length of 6.0 inches. Yellow Perch abundance is likely limited by high numbers of Northern Pike. Other species captured in low numbers included: Black Bullhead, Bowfin (Dogfish), Common Carp, Green and Hybrid Sunfish, Pumpkinseed, White Sucker and Yellow Bullhead. A surprising result was that Yellow Bullhead numbers declined greatly from 2006.

Zebra Mussel
Eurasian Watermilfoil

Recreational activities such as recreational boating, angling, waterfowl hunting, and diving may spread aquatic invasive species. Some aquatic invasive species can attach to boats, while others can become tangled on propellers, anchor lines, or boat trailers. Many species can survive in bilge water, ballast tanks, and motors or may hide in dirt or sand that clings to nets, buckets, anchors, and waders. Fortunately, completing simple steps can prevent the transport of aquatic invasive species.
LEARN MORE
NOTICE: Lake-Link Inc assumes no responsibility or liability for any errors or omissions of the information for Cedar. Although we strive to provide the most accurate information as we can the information contained in this page is provided on an "as is" basis with no guarantees of completeness, accuracy, usefulness or timeliness.