Garden
Lake County, MN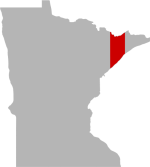 SHARE THIS PAGE
Garden is located in
Lake County, Minnesota
. This lake is 653 acres in size. It is approximately 55 feet deep at its deepest point. When fishing, anglers can expect to catch a variety of fish including Bluegill, Largemouth Bass, Northern Pike, Rock Bass, Smallmouth Bass, Walleye, Yellow Perch, Pumpkinseed,.
Boat Ramp
Black Crappie
Bluegill
Largemouth Bass
Logperch
Northern Pike
Rock Bass
Smallmouth Bass
Walleye
Yellow Perch
Burbot
Cisco (Tullibee)
Golden Shiner
Hybrid Sunfish
Lake Whitefish
Pumpkinseed
Spottail Shiner
White Sucker
NOTE: This list may not be all inclusive of all speices present in Garden.
HISTORY AND STATUS OF FISHERY
Garden Lake is a 670 acre lake located about two miles east of Winton, MN. Garden, along with Farm and South Farm Lakes make up the Garden Lake Reservoir. There is a dam located at the outlet of Garden Lake that discharges into Fall Lake. This dam, owned by Minnesota Power, impounds the reservoir and is used to generate hydropower. The lakes of the Garden Lake Reservoir are managed primarily for their walleye and northern pike fisheries. A population assessment was conducted on Garden Lake during the summer of 2012 to determine the status of the fish community, the effectiveness of walleye fingerling stocking (1.0 lb/littoral acre biennially)and protected length limit (protected length limit of 17-26" with one over 26" in possession) and the impacts of a northern pike special regulation (protected length limit of 24-36" with one over 36" in possession). Walleye made up 18% of the 2012 Garden Lake gill-net catch by number and 13% by weight. Abundance in the gill-net catch (3.0/net) was the highest recorded for Garden Lake since 1981. Despite this, abundance was below normal for lakes in the same classification as Garden. The average weight of walleye was 0.49 pounds and was below normal. Walleye lengths in the catch ranged from 7.2 to 17.8 inches with an average of 11.2 inches. Sixty-three percent of the catch was from years in which fingerling stocking occurred. Growth of Garden Lake walleye was slow. Because the Garden Lake Reservoir is an open system, fingerling stocking was evaluated concurrently for all three lakes. The results of the evaluation showed that walleye cohorts from years that were fingerling stocked contributed approximately 50% more to assessment catches than those cohorts from years in which no stocking occurred. A special regulation was implemented for walleye in 2006 on the Garden Lake Reservoir requiring the immediate release of fish between 17 and 26 inches. One walleye over 26 inches is allowed in possession. The two assessments that have occurred since 2006 indicate that this regulation has met the goal of increasing abundance of walleye greater than 17 inches. The average gill-net catch of walleye greater than 17 inches from 2008-2012 was 0.93/net. The 1991-2004 average was 0.30. The number of walleye over 17 inches has tripled while the number of walleye over 26 inches has doubled. Northern pike gill-net abundance in Garden Lake in 2012 (1.1/net) was equal to the historic average since 1965. Abundance in 2012 was below the first quartile for lakes in the same classification. Garden typically exhibits low pike abundance. Pike ranged from 15.4 to 31.9 inches with a mean of 22.28 inches. The largest pike ever caught during an assessment was 44.0 inches and was caught during 1965. Evaluation of the northern pike length regulation also included all the lakes of the reservoir. The special regulation on pike went into effect in 2003 and requires the immediate release of pike between 24 and 36 inches with one over 36 inches allowed in possession. The goal of the northern pike regulation was to increase the overall abundance of northern pike in the reservoir and specifically to increase the abundance of pike over 24 inches. The evaluation indicated that the special regulation appears to have attained its goal. The catch rate of pike over 24 inches increased from 0.38/net in 1991-1999 to 0.86/net in 2004-2012. The bluegill population in Garden Lake exhibits low density but relatively large individual size. The trap-net abundance in 2012 (1.7/net) was equal to the historic average. Average length in 2012 was 7.1 inches. The largest bluegill in the catch was 9.5 inches. Mean bluegill weight (0.39 lbs) was above average for lakes in this classification. Bluegill growth in Garden Lake was very fast. Other species present during the 2012 survey included black crappie, rock bass, smallmouth bass, yellow perch and white sucker. Abundance for all four of these species was below the first quartile for lake class 7. One rusty crayfish, a non-native species, was captured in Garden Lake.
NOTICE: Lake-Link Inc assumes no responsibility or liability for any errors or omissions of the information for Garden. Although we strive to provide the most accurate information as we can the information contained in this page is provided on an "as is" basis with no guarantees of completeness, accuracy, usefulness or timeliness.