Fish
Kanabec County, MN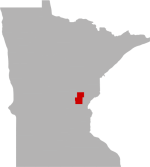 SHARE THIS PAGE
Fish is located in
Kanabec County, Minnesota
. This lake is 506 acres in size. It is approximately 8 feet deep at its deepest point. When fishing, anglers can expect to catch a variety of fish including Black Bullhead, Bluegill, Brown Bullhead, Channel Catfish, Largemouth Bass, Northern Pike, Walleye, White Bass, White Crappie, Yellow Bullhead, Yellow Perch, Pumpkinseed,.
Boat Ramp
Black Bullhead
Black Crappie
Bluegill
Brown Bullhead
Channel Catfish
Largemouth Bass
Northern Pike
Walleye
White Bass
White Crappie
Yellow Bullhead
Yellow Perch
Bowfin
Carp
Central Mudminnow
Chestnut Lamprey
Common Shiner
Freshwater Drum
Golden Redhorse
Golden Shiner
Greater Redhorse
Hybrid Sunfish
Johnny Darter
Northern Hog Sucker
Pumpkinseed
Shorthead Redhorse
Silver Redhorse
Spottail Shiner
Tadpole Madtom
White Sucker
NOTE: This list may not be all inclusive of all speices present in Fish.
HISTORY AND STATUS OF FISHERY
Fish Lake is a 407 acre impoundment of the Ann River. The lake has a maximum depth of 8 feet and is subject to low water clarity. Aquatic vegetation is abundant in shallow areas. Fish Lake is managed primarily for walleye and northern pike, with largemouth bass, crappie, and bluegill as secondary species. A population assessment was conducted on Fish Lake during the summer of 2012 to assess current fish populations and management goals.

The walleye population in Fish Lake is maintained by stocking, although some spawning does occur. Walleye fingerlings have been stocked annually since 2006. The 2012 gillnet catch (2.5/set) was similar to the 2007 rate and within the normal range for this lake type. Sampled walleye ranged from 6.5-26.5 inches, with an 18.6 inch mean length. The walleye fishery in Fish Lake has been gradually improving according to recent population assessments, and is in good shape overall.

The northern pike gillnet catch, 10.8/set, was higher than in any recent survey and exceeded the long range management goal for Fish Lake. Sampled northerns ranged from 15.8 to 31.5 inches, with a 22 inch average. Age analysis found nearly all northerns to be from 3-6 years in age, with numbers evenly distributed among these four age groups.

Despite the high abundance of northern pike, yellow perch numbers, at 14.8 per gillnet, were at a record high in 2012 while size remained within the lake class norm. Yellow perch provide an important forage base for walleye and northern pike, but most perch in Fish Lake are too small to be of interest to anglers.

Largemouth bass spring electrofishing catch rates improved from 31.3 fish per hour in 2007 to 43.8 fish per hour in 2012. Lengths ranged from 3.3 to 18.6 inches with an 11.4 inch, 1.3 pound average. Size quality was very good with 69% of adult bass 12 inches or larger and 38% reaching 15 inches or larger. With excellent catch rates, good growth rates, and consistent recruitment, the largemouth bass population in Fish Lake should provide quality fishing.

Black crappie numbers in Fish Lake remain well above the lake class norm. While the average weight of black crappie (0.21 pounds) was above the 50th percentile compared with similar lakes, it was the lowest in recent years for Fish Lake. Black crappie ranged from 4.2 to 11.5 inches with a 7 inch mean. Age analysis found good growth, with black crappie reaching 9 inches in four years. White crappie are also present in low numbers.

The bluegill catch rate increased slightly from the 2007 assessment and was above the 50th percentile for similar lakes. Average size, 0.23 pounds, was similar to previous assessments. Sampled bluegill ranged from 3.2 to 9.1 inches with a 6.4 inch mean. As with black crappie, good numbers of acceptable sized bluegill are available for panfish enthusiasts.

Channel catfish provide an additional fishing opportunity not found in most lakes in the area. The channel catfish catch rate was 2.2 fish per net set, slightly higher than the long term average for Fish Lake. Good sizes are present, with lengths ranging from 17.2-30.2 inches and an average length of 22.8 inches.

Other fish species sampled in 2012 were common carp, shorthead, greater, and golden redhorse, white sucker, northern hogsucker, yellow bullhead, bowfin, pumpkinseed sunfish, and freshwater drum.
NOTICE: Lake-Link Inc assumes no responsibility or liability for any errors or omissions of the information for Fish. Although we strive to provide the most accurate information as we can the information contained in this page is provided on an "as is" basis with no guarantees of completeness, accuracy, usefulness or timeliness.