Gibbs Lake (Big Spring), Rock County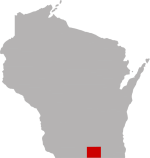 SHARE THIS PAGE
| | |
| --- | --- |
| | @ the lake |
DISPLAYING 1 TO 10 OF 252 POSTS
FILTER OPTIONS
6/24/19 @ 9:02 AM
FISHING REPORT
MOON PHASE (57%)
Waning Gibbous
Got onto the lake around 3pm, and it was pretty slow going for awhile. As posted, the weeds and wind made it hard to get around. The weeds kept slowing down my trolling motor, so I ended up using my 9.8 Mercury most of the time. The pan fish finally started hitting around 5pm on the east shoreline, so we had a little fun before we had to leave.
6/22/19 @ 9:02 AM
FISHING REPORT
MOON PHASE (75%)
Waning Gibbous
Went for bass and pike. Threw top water frogs, jigs, spoons, and spinner baits. Caught one small largemouth about 12 inches on a spinner bait. Very weedy, had a lot of problems getting the boat around due to all the weeds.
2/1/19 @ 10:36 PM
Went out today saw a lot of gills and small perch in 13 fow,(with camera) a lot of sniffers but nothing tried spike waxs minnows, had a tip up in 10 fow, with large shiner, 27 inch northern after 2 hours. Had tip up in 20 fow nothing, about 10 inches of ice, but some spots have 2-4 inches of slush. We were out about 50 yards or so from boat launch.
DISPLAYING 1 TO 10 OF 252 POSTS