Carnelian
Stearns County, MN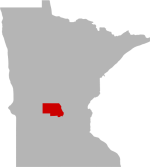 SHARE THIS PAGE
Carnelian is located in
Stearns County, Minnesota
. This lake is 180 acres in size. It is approximately 36 feet deep at its deepest point. When fishing, anglers can expect to catch a variety of fish including Black Bullhead, Bluegill, Brown Bullhead, Green Sunfish, Largemouth Bass, Northern Pike, Walleye, Yellow Bullhead, Yellow Perch,.
Boat Ramp
Black Bullhead
Black Crappie
Bluegill
Brown Bullhead
Green Sunfish
Largemouth Bass
Northern Pike
Walleye
Yellow Bullhead
Yellow Perch
Banded Killifish
Blacknose Shiner
Bluntnose Minnow
Bowfin
Hybrid Sunfish
White Sucker
NOTE: This list may not be all inclusive of all speices present in Carnelian.
HISTORY AND STATUS OF FISHERY
Carnelian Lake is a small, 164-acre lake located three miles north of the town of Kimball in Stearns County. It has a maximum depth of 36 feet and an average water clarity of 13.1 feet during the summer. Oxygen was adequate for sport fish to a depth of 18 feet during the second week of August. Carnelian Lake has a small watershed (2,950 acres) in which land use consists primarily of agriculture (56%), open water (14%), hay/pasture (11%), residential (9%), forest (6%) and grassland (4%). A public access is located on the south side of the lake, with parking for four vehicle/trailer combinations. A special 5-fish bag limit is in place with the goal of increasing and preserving the size structure of the Bluegill population. A standard survey was conducted in 2016 to monitor the effects of the special regulation as well as changes in the fishery since the last survey conducted in 2004. Along with the standard survey, a targeted Bluegill survey was conducted in May and emergent and floating leaf plant mapping and near-shore Index of Biotic Integrity (IBI) surveys were conducted in August to evaluate the physical habitat of Carnelian Lake.

Carnelian Lake has a diverse aquatic plant community. While no submerged aquatic plant survey was conducted in 2016, one conducted in 2004 found 37 species of aquatic plants with Chara spp., coontail, northern milfoil, bushy pondweed, Illinois pondweed, and sago pondweed being the most common. Emergent and floating leaf vegetation was mapped and it was determined that approximately 40% of the shoreline contained at least one type of native vegetation with bulrush and yellow waterlily being the most common.

The Northern Pike catch rate increased from the previous survey in 2004. This catch rate was greater than the long term average for Carnelian Lake and higher than what is considered ideal to maintain a balanced population of predator species. The average size of Northern Pike sampled was 1.6 pounds an 19 inches. Anglers are encouraged to harvest small pike (under 22 inches) and release the larger ones to help achieve a more balanced fish community and to improve growth rates. Lower pike numbers may also increase Walleye stocking success and allow Yellow Perch numbers (which are low) to increase. Higher perch populations are desirable as they are an important prey species for both Walleye and Northern Pike.
The catch rate of Walleye in Carnelian Lake remained unchanged since 1994, and was below expected levels for lakes with similar characteristics. The historical catch of Walleye has been consistently low, ranging from 0 to 2.0 per gill net. The average size of Walleye caught in gill nets was large at 3.4 pounds and most ranged in length from 21 to 25 inches. Walleye are not stocked in Carnelian Lake by the DNR, but they have been occasionally stocked privately with the last recorded stocking taking place in 2007.

Largemouth Bass were sampled by daytime electrofishing at a rate that was three times higher than the average daytime rate for the Sauk Rapids Area. The Largemouth Bass size structure is well balanced and fish are in good condition. Of the catchable size Largemouth Bass (> 8 inches) caught, 47% were greater than 12 inches and 22% were greater than 15 inches.

The catch rate of Black Crappie in trap nets and gill nets increased from the previous survey, and were higher than expected values for lakes similar to Carnelian. Black Crappie catches are known to fluctuate widely depending on the success of spawning which is largely dependent on environmental factors. Anglers should expect good fishing for Black Crappie in the next few years on Carnelian as the majority of fish ranged in length from 6 to 11 inches with an average length of around 8 inches.

The catch rate of Bluegill in Carnelian Lake was similar to 2004 and remained near the long term average. While the average size of Bluegill from the August survey was only about 6 inches, the spring survey showed that quality size Bluegill up to nearly 10 inches can be found and 35% of the Bluegill sampled were larger than eight inches. Seasonal differences in trap net catches for panfish related to size and abundance have to do with water temperatures and the completion of spawning. Generally catches are not as good in late summer due to the fact that larger mature fish move into deeper, cooler water where they are not sampled as well by trap nets that are set in shallow water near the shore. The average replacement time for an eight inch sunfish in central Minnesota is 5-8 years. The reduced bag limit of five sunfish per day has the effect of reducing harvest, especially during the times of the year when sunfish are more easily exploited by anglers.

Other species sampled during the survey included: Black Bullhead, Bowfin, Brown Bullhead, Green Sunfish, Hybrid Sunfish, White Sucker, and Yellow Bullhead. All of these species (with the exception of Bowfin) were sampled at rates either within or below the range of expected values for the respective lake class.

Changes in shoreline development have the potential to negatively affect the health of a lake. It is important that all lake shore owners follow County shoreline rules and only mow a small area down to the lake to allow access and avoid clearing their entire shoreline. Native vegetation helps stabilize shoreline soils and acts as a buffer reducing the amount of pollution that enters a lake from runoff.

NOTICE: Lake-Link Inc assumes no responsibility or liability for any errors or omissions of the information for Carnelian. Although we strive to provide the most accurate information as we can the information contained in this page is provided on an "as is" basis with no guarantees of completeness, accuracy, usefulness or timeliness.