Green Prairie Fish
Morrison County, MN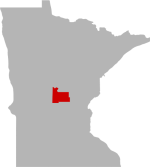 SHARE THIS PAGE
Green Prairie Fish is located in
Morrison County, Minnesota
. This lake is 182 acres in size. It is approximately 22 feet deep at its deepest point. When fishing, anglers can expect to catch a variety of fish including Black Bullhead, Bluegill, Brown Bullhead, Green Sunfish, Largemouth Bass, Northern Pike, Walleye, Yellow Bullhead, Yellow Perch, Pumpkinseed,.
No ramp
Black Bullhead
Black Crappie
Bluegill
Brown Bullhead
Green Sunfish
Largemouth Bass
Northern Pike
Walleye
Yellow Bullhead
Yellow Perch
Bowfin
Central Mudminnow
Golden Shiner
Hybrid Sunfish
Iowa Darter
Johnny Darter
Pumpkinseed
Tadpole Madtom
White Sucker
NOTE: This list may not be all inclusive of all speices present in Green Prairie Fish.
HISTORY AND STATUS OF FISHERY
Green Prairie Fish Lake is a shallow, 178 acre lake with a maximum depth of 22 feet. Water clarity was fair with a secchi disk reading of 10 feet in the middle of July. A swimming beach owned by the City of Little Falls is located on the south shore of the lake. The management goals for the lake focus on largemouth bass, northern pike, walleye, and bluegills. Walleye fingerlings are stocked in odd numbered years when available. Several catch rates showed declines since the last survey. This may have been due to July 2012 as one of the hottest on record. The excessive heat may have adversely affected fish movement.
Spring electrofishing was conducted to evaluate the largemouth bass population. The catch rate suggests that Green Prairie Fish Lake supports a moderate number of largemouth bass. The 14-inch average size observed in the spring electrofishing was higher than in most waters with bass up to 18 inches caught. The northern pike catch was lower than the last survey in 2006 and within management goals for the lake. Despite fewer numbers, size structure of the pike population was less than desired as few fish in the catch exceeded 24 inches in length. Although pike over 30 inches were caught, average size was 20.5 inches or about 2 pounds. Anglers should consider keeping northern pike less than 24 inches as a harvestable surplus of small fish exists. Reducing the population of small pike could be beneficial to the entire fish community. Walleye management in particular would benefit from lower pike numbers. One factor that may influence the harvest of northern pike is that many of the fish had neascus or black spot. Fish may look bad or unslightly and are released. Neascus is a trematode or parasite that usually resides in the skin of the fish and usually does not affect the population or cause much mortality. The life cycle of the parasite includes snails and fish-eating birds, such as herons and bitterns. Filleting the fish will remove most of the parasites and cooking will kill the rest. Humans cannot be infested.
Even though walleye numbers were down, the summer catch rate was within the normal range when compared to similar type lakes. The walleye captured in the survey were between 14 and 28 inches with an average size of about 20 inches or about 3.1 pounds. Anglers reported that the best walleye fishing has typically been in the spring and early ice-up. The lake has little structure so anglers should concentrate efforts along the weedlines.
Yellow perch numbers continue to show a decline in abundance. Higher perch numbers are desirable as they can be an important prey species for northern pike and walleye. Perch can also be instrumental in helping maintain a well-balanced bluegill population with fast growing, quality size individuals.
A panfish trap net assessment targeting bluegill and black crappie was conducted on the lake in early June of 2012. Panfish assessments will usually show a more accurate picture of the size structure of the adults in the panfish populations than mid-summer nets will. Average size of the bluegill in the spring assessment was almost six inches with individuals over 9 inches measured. Black crappie up to 11 inches were caught in the spring assessment but average size was 9 inches. Anglers reported catching small black crappies in the summer while bigger ones are more common in the winter. Summer can be good for bluegill angling.
Both brown and yellow bullhead were sampled in the summer survey with yellow bullheads being the most abundant. Quality size bullheads over 12 inches were present in both species. Other species that were caught in the spring trap net assessment included bowfin or dogfish, hybrid sunfish, and pumpkinseed sunfish.
Improving the water quality in the lake should be a high priority of the lakeshore owners. Buffer strips along the developed and undeveloped inlets and lakeshore property are encouraged to reduce nutrients entering the lake through run-off. Maintaining adequate septic systems, keeping grass clippings and raked leaves out of the water along with the common sense use of lawn fertilizer will reduce additional nitrogen and phosphorus from entering the water thus slowing algae and excess weed growth.

NOTICE: Lake-Link Inc assumes no responsibility or liability for any errors or omissions of the information for Green Prairie Fish. Although we strive to provide the most accurate information as we can the information contained in this page is provided on an "as is" basis with no guarantees of completeness, accuracy, usefulness or timeliness.