East Jefferson
Le Sueur County, MN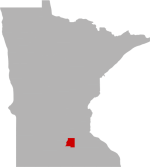 SHARE THIS PAGE
East Jefferson is located in
Le Sueur County, Minnesota
. This lake is 685 acres in size. It is approximately 37 feet deep at its deepest point. When fishing, anglers can expect to catch a variety of fish including Black Bullhead, Bluegill, Green Sunfish, Largemouth Bass, Northern Pike, Walleye, White Bass, White Crappie, Yellow Bullhead, Yellow Perch, Pumpkinseed,.
No ramp
Black Bullhead
Black Crappie
Bluegill
Green Sunfish
Largemouth Bass
Logperch
Northern Pike
Walleye
White Bass
White Crappie
Yellow Bullhead
Yellow Perch
Bigmouth Buffalo
Bluntnose Minnow
Bowfin
Carp
Freshwater Drum
Golden Shiner
Hybrid Sunfish
Longnose Gar
Pumpkinseed
Smallmouth Buffalo
Spottail Shiner
White Sucker
NOTE: This list may not be all inclusive of all speices present in East Jefferson.
HISTORY AND STATUS OF FISHERY
East Jefferson lake is a 700 acre lake in LeSueur county located northwest of Elysian. East Jefferson is the largest of the Jefferson lakes chain; it is known locally as Big Jefferson. A DNR owned public access is located on the east side of the lake, off LeSueur county road 13.
East Jefferson was surveyed the week of August 4th, 2008 to monitor the fish community. Black bullhead were netted at a rate of 63 per gill net, less than half the value (142/gillnet) observed in 2002.
Yellow perch gill netted at a rate of 30 per net, an decrease from 99 per net during the last survey. Yellow perch ranged in size from 5.4 to 8.9 inches. Walleye abundance remained stable, averaging 2.2 fish per gill net in this and 1.9 in the last survey. Northern pike also remained stable, averaging 0.5 fish per gill net in this and 0.4 in the last survey.
Four largemouth bass were caught in trap and gill nets. Largemouth bass are not well sampled by nets. The Jefferson chain remains a popular largemouth bass destination and location of bass angling tournaments.
Eight white bass were sampled. All white bass sampled were from the 2004 year class and ranged from 13.3 to 15.2 inches. White bass occasionally spawn strong year classes, and an active connection to the Cannon River (County Ditch 59) ensures that white bass will always be in the Jefferson Chain system.
Black crappie abundance decreased since the last assessment, but average size increased. Crappie gill net and trap net fish per net numbers dropped from 7.1 and 4.5 to 2.3 and 6.2 respectively. Average weight rose from 0.15 to 0.22 pounds in gill nets and 0.26 to 0.34 pounds in trap nets.
At the time of the assessment, bluegills may have been roaming deeper water. Gill nets outfished trap nets, very atypical for this specie. Bluegill gill net catch increased from 29.4 in 2002 to 34.6 in 2008. Trap net catches fell from 44.8 in 2002 to 15.6 in 2008. Bluegill length ranged from 3 to 8 inches, and the across gears average (mean) size increased from 4.96 inches in 2002 to 5.96 inches in 2008.
Other fish surveyed include white sucker, yellow bullhead, golden shiner, white crappie, bowfin (dogfish), common carp, freshwater drum (sheephead), hybrid sunfish, and pumpkinseed. Bigmouth buffalo are present in the lake, but were not sampled.
Anglers can help maintain or improve the quality of fishing by practicing selective harvest. Selective harvest allows for the harvest of smaller fish for table fare, but encourages release of medium- to large-sized fish. Releasing these fish can help maintain balance in the fish community in East Jefferson Lake and provide anglers the opportunity to catch more and larger fish in the future.
Shoreline areas on the land and into the shallow water provide essential habitat for fish and wildlife that live in or near Minnesota s lakes. Overdeveloped shorelines cannot support the fish, wildlife, and clean water that are associated with natural undeveloped lakes.
Shoreline habitat consists of aquatic plants, woody plants, and natural lake bottom soils. Plants in the water and at the waters edge provide habitat, prevent erosion, and absorb excess nutrients. Shrubs, trees, and woody debris such as fallen trees or limbs provide good habitat both above and below the water and should be left in place. By leaving a buffer strip of natural vegetation along the shoreline, property owners can reduce erosion, help maintain water quality, and provide habitat and travel corridors for wildlife.
Eurasian Watermilfoil
Eurasian Watermilfoil
Eurasian Watermilfoil
Eurasian Watermilfoil
Eurasian Watermilfoil

Recreational activities such as recreational boating, angling, waterfowl hunting, and diving may spread aquatic invasive species. Some aquatic invasive species can attach to boats, while others can become tangled on propellers, anchor lines, or boat trailers. Many species can survive in bilge water, ballast tanks, and motors or may hide in dirt or sand that clings to nets, buckets, anchors, and waders. Fortunately, completing simple steps can prevent the transport of aquatic invasive species.
LEARN MORE
NOTICE: Lake-Link Inc assumes no responsibility or liability for any errors or omissions of the information for East Jefferson. Although we strive to provide the most accurate information as we can the information contained in this page is provided on an "as is" basis with no guarantees of completeness, accuracy, usefulness or timeliness.