Andrew
Douglas County, MN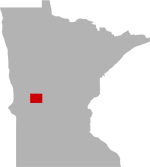 SHARE THIS PAGE
Andrew is located in
Douglas County, Minnesota
. This lake is 918 acres in size. It is approximately 83 feet deep at its deepest point. When fishing, anglers can expect to catch a variety of fish including Black Bullhead, Bluegill, Brown Bullhead, Green Sunfish, Largemouth Bass, Northern Pike, Rock Bass, Walleye, Yellow Bullhead, Yellow Perch, Pumpkinseed,.
Boat Ramp
Black Bullhead
Black Crappie
Bluegill
Brown Bullhead
Green Sunfish
Largemouth Bass
Northern Pike
Rock Bass
Walleye
Yellow Bullhead
Yellow Perch
Bowfin
Carp
Cisco (Tullibee)
Hybrid Sunfish
Pumpkinseed
Shorthead Redhorse
White Sucker
NOTE: This list may not be all inclusive of all speices present in Andrew.
HISTORY AND STATUS OF FISHERY
Lake Andrew is a 918-acre, moderately fertile basin located just south of Alexandria. It is a relatively deep lake. Mean and maximum depths are 29.0 and 83.0 feet, respectively. Water clarity is good. Average water transparency measurements typically exceed 9.0 feet during summer months. This lake is a popular destination for both anglers and recreational boaters. Residential development around the lake is considered moderate. Most of the watershed remains in agricultural production, but municipal and light industrial developments have encroached into the watershed. A concrete public access is located along the south shoreline off South Lake Andrew Drive. Lake Andrew is now designated as an infested waterbody due to presence of zebra mussels. Adult zebra mussels were first confirmed in 2016. Regulations restricting bait harvest and transport of water apply to this basin. For more information regarding aquatic invasive species in Minnesota see the following: http://www.dnr.state.mn.us/invasives/aquatic/index.html Lake Andrew holds a diverse and abundant aquatic plant community. Of particular interest are large expanses of hardstem bulrush and common cattail bordering the north and west shoreline. These areas provide critical habitat for many fish species and must be protected to maintain integrity of the fish community. Lake Andrew supports a diverse fish community and offers a wide range of fishing opportunities. Primary management efforts are directed at sustaining a Walleye fishery. Walleye fry are stocked on an alternate year basis to supplement natural reproduction and bolster walleye abundance. Stocking efforts have been highly successful and Walleye are currently abundant. Gill net catches averaged 12.6 fish/net in 2016, exceeding catch rates considered normal for this type of lake. High abundance is attributed to an extremely strong 2012 year class, which accounted for approximately 77% of the Walleyes captured in gill nets. Age and growth analyses indicated the majority of Walleyes from this year class have grown to a harvestable size. This cohort ranged in length from 12.4 to 18.1 inches with an average length of 14.9 inches. Fall electrofishing efforts indicated another extremely strong year class was produced in 2016. Walleye abundance will likely remain high in future years if this year class recruits into the sport fishery. Other gamefishes contributing to the fishery include Northern Pike, Largemouth Bass, and panfishes such as Bluegills, Black Crappies, and Yellow Perch. Northern Pike are extremely abundant. A record- high survey catch occurred in 2016. This population is largely comprised of young or small individuals. Mean pike length was just 18.7 inches and 1.4 pounds. Too many small pike is a common problem in many lakes in west-central Minnesota. Harvest of small pike is highly encouraged to help keep this population in check. Largemouth Bass catches during electrofishing surveys have decreased in recent years. Current abundance is considered moderate. Much of the population is comprised of younger, smaller fish. Only 12% of the 2016 sample exceeded 15.0 inches in length. Bluegill numbers have increased in recent years and current catch rates describe population density as moderate, in terms of both abundance and size structure. Harvestable-size Black Crappie and Yellow Perch are also present but abundance of these species is relatively low. Other species recorded in the 2016 lake survey included Bowfin (Dogfish), Common Carp, Green Sunfish, Hybrid Sunfish, Pumpkinseed, Rock Bass, Tullibee (Cisco), White Sucker, and Black, Brown and Yellow Bullhead. The next lake survey is tentatively scheduled for 2020. Fishing pressure on Lake Andrew can be heavy at times, during both open water and winter seasons. To help maintain the high-quality attributes of Lake Andrew's fishery, anglers are encouraged to practice selective harvest. Selective harvest encourages release of larger fish and directed harvest on more abundant smaller fish. Releasing medium to large fish will help restore and maintain fish community balance, as well as increase opportunities to catch larger fish.

Recreational activities such as recreational boating, angling, waterfowl hunting, and diving may spread aquatic invasive species. Some aquatic invasive species can attach to boats, while others can become tangled on propellers, anchor lines, or boat trailers. Many species can survive in bilge water, ballast tanks, and motors or may hide in dirt or sand that clings to nets, buckets, anchors, and waders. Fortunately, completing simple steps can prevent the transport of aquatic invasive species.
LEARN MORE
NOTICE: Lake-Link Inc assumes no responsibility or liability for any errors or omissions of the information for Andrew. Although we strive to provide the most accurate information as we can the information contained in this page is provided on an "as is" basis with no guarantees of completeness, accuracy, usefulness or timeliness.