Comfort
Chisago County, MN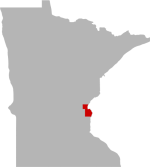 SHARE THIS PAGE
Comfort is located in
Chisago County, Minnesota
. This lake is 218 acres in size. It is approximately 47 feet deep at its deepest point. When fishing, anglers can expect to catch a variety of fish including Black Bullhead, Bluegill, Brown Bullhead, Green Sunfish, Largemouth Bass, Muskie, Northern Pike, Walleye, White Crappie, Yellow Bullhead, Yellow Perch, Pumpkinseed,.
No ramp
Black Bullhead
Black Crappie
Bluegill
Brown Bullhead
Green Sunfish
Largemouth Bass
Muskie
Northern Pike
Walleye
White Crappie
Yellow Bullhead
Yellow Perch
Bowfin
Brassy Minnow
Brook Silverside
Carp
Fathead Minnow
Golden Shiner
Hybrid Sunfish
Johnny Darter
Pumpkinseed
Spottail Shiner
White Sucker
NOTE: This list may not be all inclusive of all speices present in Comfort.
HISTORY AND STATUS OF FISHERY
Comfort is a relatively deep, medium sized lake of moderate fertility. Located in southwestern Chisago County, the lake has a predominantly sandy shore with moderate development. Water clarity is good for the area with a secchi disc reading of 10 feet on June 14th. The lake is managed primarily for walleye and northern pike. In the past, walleye fingerlings (135 pounds) were stocked biennially in the fall. The stocking plan has recently been changed to an annual fall fingerling stocking of 90 pounds.

As in previous samples, the electrofishing catch for largemouth bass (7.9 per hour) was dramatically lower than in nearby lakes. The factor limiting bass abundance is still unknown, but it doesn't appear to be a lack of spawning habitat or available forage as both appear abundant. The gill net catch for walleye and northern pike fell within the normal range compared to similar lakes. Both showed modest increases compared to the 2005 catch. Walleye ranged in length from 13.7 to 24.7 inches with a 20 inch and 2.8 pound average. Although smaller walleye weren't sampled in the gill nets, many between 10 and 13 inches were observed during the bass electro-fishing and reported by walleye anglers. Sampled northerns were quality sized ranging up to 30.9 inches with a third of the catch in excess of 25 inches. The yellow perch abundance remains high. Although most perch were too small to interest anglers, they do provide an important forage base for walleye and northern pike. The black crappie catch was higher than expected but few, less than 10 percent, exceeded 8 inches in length. Similarly, bluegill abundance was good but with few fish in excess of 7 inches, size may be an issue with anglers.

Comfort Lake's fish community also included banded killifish, black bullhead, bluntnose minnow, bowfin (dogfish), brook silverside, common carp, green sunfish, hybrid sunfish, shiners (golden, spotfin, and spottail), Johnny darter, muskellunge, pumpkinseed sunfish, and white sucker.
Zebra Mussel
Eurasian Watermilfoil

Recreational activities such as recreational boating, angling, waterfowl hunting, and diving may spread aquatic invasive species. Some aquatic invasive species can attach to boats, while others can become tangled on propellers, anchor lines, or boat trailers. Many species can survive in bilge water, ballast tanks, and motors or may hide in dirt or sand that clings to nets, buckets, anchors, and waders. Fortunately, completing simple steps can prevent the transport of aquatic invasive species.
LEARN MORE
NOTICE: Lake-Link Inc assumes no responsibility or liability for any errors or omissions of the information for Comfort. Although we strive to provide the most accurate information as we can the information contained in this page is provided on an "as is" basis with no guarantees of completeness, accuracy, usefulness or timeliness.