Kitchi
Beltrami County, MN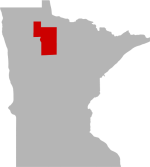 SHARE THIS PAGE
Kitchi is located in
Beltrami County, Minnesota
. This lake is 1,858 acres in size. It is approximately 50 feet deep at its deepest point. When fishing, anglers can expect to catch a variety of fish including Black Bullhead, Bluegill, Brown Bullhead, Largemouth Bass, Muskie, Northern Pike, Rock Bass, Walleye, Yellow Bullhead, Yellow Perch, Pumpkinseed,.
No ramp
Black Bullhead
Black Crappie
Bluegill
Brown Bullhead
Largemouth Bass
Muskie
Northern Pike
Rock Bass
Walleye
Yellow Bullhead
Yellow Perch
Bowfin
Burbot
Cisco (Tullibee)
Common Shiner
Hybrid Sunfish
Lake Whitefish
Pumpkinseed
River Redhorse
Shorthead Redhorse
White Sucker
NOTE: This list may not be all inclusive of all speices present in Kitchi.
HISTORY AND STATUS OF FISHERY
Kitchi Lake is one of several connected lakes joined via the Mississippi and Turtle rivers that comprise the Cass Lake chain of lakes. Kitchi supports a limited amount of residential development along its lakeshore, although there are several resorts. The lake is located in southeastern Beltrami County approximately 18 miles east of Bemidji. It is a 1,785 acre lake with a 50 foot maximum depth. There is no developed public boat ramp on Kitchi Lake; however, boaters can access the lake by following the Turtle River upstream from the north side of Cass Lake. A scenic northern Minnesota lake, Kitchi lies within the boundaries of both the Leech Lake Indian Reservation and the Chippewa National Forest.

Water levels in this system are affected by dam operations on the Mississippi River. Water level fluctuations can affect growth of emergent and submerged vegetation as well as availability of potential spawning habitat. In addition, fish populations in these connected waters are frequently influenced by fish movement between lakes. Walleye is the primary management species for Kitchi, and secondary management species include northern pike, black crappie, and muskellunge.

Kitchi Lake is indirectly connected to Lake Andrusia which is a source of brood stock for the Big Lake Creek spawn taking station. Under DNR policy, ten percent of the annual walleye egg take is returned to the source water as fry. In the Cass Lake Chain, any stocking or natural reproduction should be looked at in the context of the entire connected system of lakes. In Kitchi, the Leech Lake Band of Ojibwe has been stocking walleye fry on alternate years since 1993.

The Kitchi Lake walleye fishery is best considered in the context of the numerous connected waters of the Cass Lake chain. This includes lakes connected to the Turtle River, which flows through Kitchi and into Cass, as well as those connected to the Mississippi River, which also flows into (and out of) Cass Lake. Kitchi has a reputation - along with several other lakes connected to Cass Lake - as being a good early season walleye fishing lake. Throughout the Cass Lake system, many fish make significant runs each spring, following the Mississippi or Turtle rivers while on their spawning migrations. Walleye tagging studies have demonstrated that fish from throughout the system become mixed during this process of searching out various spawning locations. Since spawning is usually completed shortly before the season opener, walleyes are often found gradually working their way back toward the main lakes, feeding frequently along the way.

In Kitchi Lake, walleye abundance over the past three population assessments has been fairly consistent, and is considered typical for this type of lake. In 2009, walleye ranged from 10 to 23 inches in length and were represented by seven different year classes. The 2006 year class (age-3) dominated the gill net sample.

Northern pike is another important species in Kitchi Lake. Like walleye, their tendency for spring spawning migrations results in considerable movement throughout the chain. Even though spawning habitat is plentiful, northern pike density is not exceptionally high. Throughout the system, desirable forage (cisco, whitefish, sucker species), low population density, and cool water refuge areas provide the necessary components for good growth of northern pike. In 2009, northern pike abundance in Kitchi Lake was similar to that from 2004 and is considered low compared to most lakes. Even with a low density population, size structure is not desirable. The main reason for this is that 67% of the sample was composed of age-2 (2007 year class) fish. An age structure skewed towards young fish may be related to the abundant emergent vegetation upstream of Kitchi in the Turtle River that is prime spawning habitat for northern pike. These areas may serve as a major spawning and nursery areas for younger fish, while older (and larger) northern pike may be vacating these shallow basins seasonally for more desirable habitats elsewhere in the Cass Lake chain.

Muskellunge are also present in Kitchi, although none were sampled in the 2009 assessment (they are seldom sampled in standard population assessments). However, an excellent natural muskellunge population thrives in the Cass Lake chain, and many are known to frequent the high-quality habitat available in Kitchi Lake. Anglers should remember that muskellunge harvest restrictions on Kitchi fall under the statewide 48 inch minimum length regulation.

Few bluegill were captured in this or any previous population assessment, and catch rates are lower than what is typical for this lake type; however, bluegill captured in 2009 displayed a quality size structure. A few black crappie were also captured, ranging from 4 to 11 inches in length. While none of the sunfish species were captured in great abundance, anglers do target bluegill, black crappie, and largemouth bass successfully on Kitchi Lake. Yellow perch abundance in 2009 was typical of other lakes in this lake class. Only 3% of perch in the sample were greater than eight inches.

Anglers and other lake users should be aware of their role in preventing the spread of invasive species. Invasive species are plants and animals that have been introduced through human activities to a location where they do not naturally occur. Non-native species are not necessarily harmful, but when they cause ecological or economic problems, they are categorized as "invasive." Minnesota's aquatic resources are threatened by a variety of aquatic invasive species. These species have a high risk of continued spread, as they are easily established and can be unknowingly transported from lake to lake by human activity. The movement of any type of equipment (boats, boat trailers, boat lifts, docks, personal watercraft, bait containers, etc.) between lakes risks potential invasive species transfer if precautions are not taken. To avoid being an accomplice to the spread of these unwanted species, people should make sure all equipment is thoroughly cleaned and dried before entering new waters. Items that are difficult to dry (livewells, baitwells, bilge areas, etc.) should be treated with scalding water or a small amount of iodine or chlorine bleach solution to kill any organisms that may be hiding there. For more information on invasive species, check the link to the DNR website at: http://www.dnr.state.mn.us/invasives/index.html


Recreational activities such as recreational boating, angling, waterfowl hunting, and diving may spread aquatic invasive species. Some aquatic invasive species can attach to boats, while others can become tangled on propellers, anchor lines, or boat trailers. Many species can survive in bilge water, ballast tanks, and motors or may hide in dirt or sand that clings to nets, buckets, anchors, and waders. Fortunately, completing simple steps can prevent the transport of aquatic invasive species.
LEARN MORE
NOTICE: Lake-Link Inc assumes no responsibility or liability for any errors or omissions of the information for Kitchi. Although we strive to provide the most accurate information as we can the information contained in this page is provided on an "as is" basis with no guarantees of completeness, accuracy, usefulness or timeliness.