Gladstone Lake
Henderson County, IL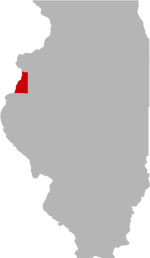 SHARE THIS PAGE
Gladstone Lake is located in Henderson County one mile southwest of the Village of Gladstone. Access to the lake is also off of U.S. Route 34, one mile to the north.
This 32 acre small sanpit or watertable impoundment is owned and managed by the Illinois Department of Natural Resources and is situated within a 87.5 acre site that in addition to fishing, offers primitive camping.

The lake has a maximum depth of 25 feet with the bottom contour very irregular due to a series of underwater ridges. The 1.5 miles of shoreline is accessible to bank fishing. A boat ramp is provided along the southeast shoreline.

Formation of Gladstone Lake started in 1910 and continued until 1947 as sand was dredged from the site to be used by steam locomotives as rail traction. In 1961, the site was purchased by the Illinois Department of Conservation and developed as a state park, known today as the Henderson County Conservation Area.

All fish: 2 pole and line fishing only. A boat ramp is available for boat anglers. The use of gasoline motors to propel watercraft is not permitted, electric motors only.

Muskie:
- 48 inch minimum and 1 fish per day harvest limit.
Largemouth or Smallmouth Bass:
-1 fish greater than or equal to 15 inches and/or 2 fish less than 12 inches. 3 fish daily harvest limit.
Bluegill or Redear Sunfish:
- 10 fish daily harvest limit.
Channel or Blue Catfish:
- 6 Fish daily harvest limit.


Electric motors only
Boat Landing
Camping
Swimming
Boat Rentals
Picnicking
Skiing
Black Crappie
Bluegill
Channel Catfish
Largemouth Bass
Muskie
Redear Sunfish
NOTE: This list may not be all inclusive of all speices present in Gladstone Lake.
BLUEGILL
Fair
Source: Illinois DNR
BLACK CRAPPIE
AVERAGE
In 2019, the black crappie population was sampled by one fish at 3.2 inches in the fall electrofishing survey. A low density black crappie population is present at this time. No harvest or length limit is necessary at this time for the crappie population.
BLUEGILL
POOR
The bluegill population was sampled by 19 stock size fish in the fall electrofishing survey. The current bluegill population is rated as poor with the larger fish up to 7.0 inches in length. This population is of high density and in below average body condition with a Wr average of 81 for stock size fish.
CHANNEL CATFISH
GOOD
The channel catfish population was sampled by 3 fish from 16 to 20 inches in the fall electrofishing survey. Jake Wolf hatchery stocked 495 fish at 8.4 inches in 2019. An annual stocking of non-vulnerable channel catfish is scheduled for the future.
LARGEMOUTH BASS
POOR
In 2019, a fall D.C. electrofishing survey was used to evaluate the fish population. The largemouth bass population was evaluated by 53 bass from electrofishing. The largemouth bass population appears to be defined by a high percentage of fish from 3 to 14 inches in length with just average Relative weights. The bass population appears to be stunted with a high density of fish competing for space and food. A very large year class was produced in the spring of 2014, 2015, 2017, 2018 and 2019.
MUSKELLUNGE
DEVELOPING
No muskie were sampled in the fall electrofishing survey. 2 female muskie at 33 inches in length were stocked into Gladstone Lake in the spring of 2016 by IDNR Fisheries, 10 fish at 12.5 inches in 2018, and 10 fish at 13.5 inches in 2019. A low density muskie population will be the goal for Gladstone Lake. A total density of less than 10 fish per year will be stocked over the next five years.
REDEAR SUNFISH
POOR
The current redear population is rated as poor with the larger fish up to 8.0 inches in length. This population is of moderate density and in below-average body condition. Site Regulation: 10 fish daily per angler.
HISTORY AND STATUS OF FISHERY
The historic flood of 2008 on the Mississippi River inundated Gladstone Lake and contaminated it with undesirable, non-sportfish. Within a four year period, the introduced fish had resulted in a very poor quality sport fishery. In 2012, the lake was rehabilitated with a fish toxicant to remove the undesirable fish and then restocked in 2012 and 2013.
The lake and its sport fishery are evaluated annually.
CONTACT / CONTROLLING AUTHORITY
Big River State Park:
309-374-2496
IDNR Fisheries Biologist, Rob Hilsabeck
309-446-9143
NOTICE: Lake-Link Inc assumes no responsibility or liability for any errors or omissions of the information for Gladstone Lake. Although we strive to provide the most accurate information as we can the information contained in this page is provided on an "as is" basis with no guarantees of completeness, accuracy, usefulness or timeliness.