Phillips Chain, Price County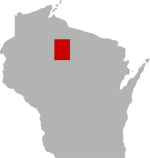 SHARE THIS PAGE
DISPLAYING 1 TO 10 OF 708 POSTS
FILTER OPTIONS
4/26/19 @ 1:13 PM
FISHING REPORT
All Lakes on the Chain are Ice Free!

Ross's Fishing Guide Service
(715) 339-3625
8/10/18 @ 8:33 AM
Never fished here before and probably won't again. I have a place up in Bayfield County and do most of my fishing up there.
Anyway, I agreed to take a Purple Heart veteran musky fishing and have absolutely no idea where to begin. If someone could just point me in the right direction, I'd appreciate it. PM me if you prefer.
I appreciate any help I can get.
Thank you,
Chris
2/11/17 @ 8:42 AM
FISHING REPORT
MOON PHASE (99%)
Waning Gibbous
Ice is good for travel. ATV will be fine. Trucks have been traveling on town lake and Wilson. With weather warming up stay away from channel on elk and bridge going into long.
There has been way more fishing action in the early am then slows down in the mid day and picks up again in that hour or so before dark....
We've been fishing on long and the key for us is hole hoping.
Good luck and tight lines.
DISPLAYING 1 TO 10 OF 708 POSTS