Mauthe Lake, Fond Du Lac County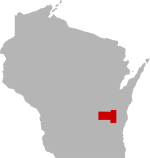 SHARE THIS PAGE
DISPLAYING 1 TO 10 OF 423 POSTS
FILTER OPTIONS
FISHING REPORT
Mauthe Lake 2/26/18, morning
Ice conditions were excellent with little snow cover, no slush, and excellent traction without (or with, I suppose) ice cleats.
fished 10 to 12 feet of water with waxies and spikes. Minnows on tip ups.
slow, but steady panfish action with only one "keeper". No action on the tip ups until tear down, when a decent northern hit while reeling the last tip up in. Bit off at the hole, so didn't get to measure it, but size of it's head gave us something to whoop whoop about.
for us, the panfish bite dried up around 10 oclock. Only two other guys were set up on the lake, still there when we gave up.

DISPLAYING 1 TO 10 OF 423 POSTS