High Falls, Marinette County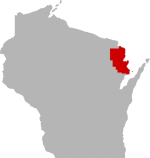 SHARE THIS PAGE
DISPLAYING 1 TO 10 OF 1,348 POSTS
FILTER OPTIONS
7/26/19 @ 9:40 PM
FISHING REPORT
MOON PHASE (34%)
Waning Crescent
6/25/19 @ 8:24 AM
Going out here for the first time this upcoming weekend. Very excited to fish. i've been doing a lot of research on the lake but would like to get some additional information on the lake as a whole and the dam as well. message me with information if possible. i appreciate it!
6/19/19 @ 3:24 PM
I am gonna be in the Crivitz area next week and am looking to try fishing High Falls for the first time. Target fish will be musky, pike and bass. Any tips or specific areas to target would be greatly appreciated. I am guess the fish are probably still in the shallow warmer water given the cool spring so far.
3/2/19 @ 9:29 AM
FISHING REPORT
MOON PHASE (13%)
Waning Crescent
Fishing is not good. Travel is not good. We are taking our shanty off this weekend. A big race is out boat landing 3 today also. Maybe they will scare a few fish our way. Lol.
DISPLAYING 1 TO 10 OF 1,348 POSTS