Shagawa
St. Louis County, MN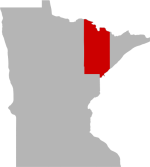 SHARE THIS PAGE
Shagawa is located in
St. Louis County, Minnesota
. This lake is 2,345 acres in size. It is approximately 48 feet deep at its deepest point. When fishing, anglers can expect to catch a variety of fish including Bluegill, Green Sunfish, Largemouth Bass, Northern Pike, Rock Bass, Smallmouth Bass, Walleye, Yellow Perch, Pumpkinseed,.
Boat Ramp
Black Crappie
Bluegill
Green Sunfish
Largemouth Bass
Logperch
Northern Pike
Rock Bass
Smallmouth Bass
Walleye
Yellow Perch
Bluntnose Minnow
Burbot
Cisco (Tullibee)
Common Shiner
Golden Shiner
Iowa Darter
Johnny Darter
Lake Whitefish
Pumpkinseed
Shorthead Redhorse
Spottail Shiner
White Sucker
NOTE: This list may not be all inclusive of all speices present in Shagawa.
HISTORY AND STATUS OF FISHERY
Shagawa Lake is a 2,370 acre lake with a maximum depth of 48 feet located just north of Ely, Minnesota. Shagawa's bog-stained waters are relatively productive especially compared to other lakes in the area. Shagawa is a very popular lake and receives considerable fishing pressure and attention from other water recreationalist. There were 142 houses/cabins counted on Shagawa Lake during the 1999 survey. Shagawa is managed as a walleye lake. It is stocked with 2.4 million fry every third year.

A fisheries assessment was conducted on Shagawa Lake during the summer of 2012. Nine gill nets were set to assess the fishery. Standard survey trap nets were not set in 2012 because species typically sampled by this gear (bluegill and black crappie) are not common in this lake.

Walleye gill-net abundance in 2012 (19.4/net) was above average for Shagawa Lake as well as other lakes in the same classification. Assessments have consistently indicated high walleye abundance. Walleye caught in 2012 ranged from 7.4 to 24.5 inches with an average length of 13.0 inches. Three size groups of fish were common in the catch. These groups averaged 9.0, 11.5 and 16 inches. Only 2% of the catch was of fish over 20 inches. Ten age groups, one through ten, were present in the catch but age-1, age-2 and age-4 made up 75% of the total. Growth of Shagawa Lake walleye was below average for lakes in the Tower management area.

By using age data from a number of assessments, its possible to calculate an estimate of mortality rates for walleye in Shagawa Lake. The number of walleye of each age from 1981 through 2012 was combined. Three year old walleye are the most common age group in our nets but numbers decline quickly after that. The rate of decline is an indication of mortality. On average for Shagawa, 49% of each age group dies each year either due to either angling or natural causes. This is high compared to other walleye populations in the area.

An evaluation of walleye fry stocking indicated that, since 1981, 62% of our assessment catch was from 17 years in which fry stocking occurred. The other 38% were from 21 years in which no stocking occurred. This indicates that fry stocked years appear to contribute twice the number of fish when compated to non-stocked years.

The gill-net abundance of northern pike in 2012 (0.8/net) was the lowest its been since 1993 and was the second lowest on record. Abundance in 2012 was unusually low compared to other lakes in the same classifcation. Northern pike lengths ranged from 19.8 to 35.6 inches with an average of 26.1 inches. The seven northern pike caught during the assessment had a average weight of 4.2 pounds which was exceptionally high for lakes in the same classification as Shagawa.

Smallmouth bass first appeared in Shagawa Lake during an assessment in 1967. They were not present in the four previous investigations dating back to 1948. Catches of bass have generally increased since introduction. In 2012, gill-net abundance (0.4/net) was the third highest on record. The average length from all assessments was 11.5 inches and the largest individual ever captured was 18.9 inches taken in 2012.

The cisco gill-net abundance in 2012 (1.0/net) was exceptionally low compated to previous assessments of Shagawa Lake. Like many Area lakes, cisco abundance appears to be declining in this lake. The average gill-net catch rate between 1948 and 1967 was 20.2/net. From 1970-1999 the average was 5.0/net and since 2000 the average was 0.9/net. The summer of 2012 was very warm and we received many reports of a substantial cisco die-off.

Yellow perch gill-net abundance has been highly variable in Shagawa Lake. The long-term average (16.0/net) is exceptionally high compared to other lakes in the same classification. In 2012, however, abundance was 4.6/net, very low compared to previous catches on Shagawa Lake. Yellow perch is an important forage species in this lake for walleye.

Over 1,300 rusty crayfish were also captured during the 2012 assessment. Rusty crayfish are an invasive species that out compete native crayfish and can cause negative impacts like the loss of aquatic vegetation in lakes where they are present.



Recreational activities such as recreational boating, angling, waterfowl hunting, and diving may spread aquatic invasive species. Some aquatic invasive species can attach to boats, while others can become tangled on propellers, anchor lines, or boat trailers. Many species can survive in bilge water, ballast tanks, and motors or may hide in dirt or sand that clings to nets, buckets, anchors, and waders. Fortunately, completing simple steps can prevent the transport of aquatic invasive species.
LEARN MORE
NOTICE: Lake-Link Inc assumes no responsibility or liability for any errors or omissions of the information for Shagawa. Although we strive to provide the most accurate information as we can the information contained in this page is provided on an "as is" basis with no guarantees of completeness, accuracy, usefulness or timeliness.