Bush
Hennepin County, MN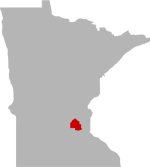 SHARE THIS PAGE
Bush is located in
Hennepin County, Minnesota
. This lake is 171 acres in size. It is approximately 28 feet deep at its deepest point. When fishing, anglers can expect to catch a variety of fish including Black Bullhead, Bluegill, Brown Bullhead, Green Sunfish, Largemouth Bass, Northern Pike, Walleye, Yellow Bullhead, Yellow Perch, Pumpkinseed and.
Boat Ramp
Black Bullhead
Black Crappie
Bluegill
Brown Bullhead
Green Sunfish
Largemouth Bass
Northern Pike
Walleye
Yellow Bullhead
Yellow Perch
Carp
Golden Shiner
Hybrid Sunfish
Pumpkinseed
White Sucker
NOTE: This list may not be all inclusive of all speices present in Bush.
HISTORY AND STATUS OF FISHERY
Bush is a 188-acre lake located in Bloomington. The majority of the lakeshore is part of the city-owned Bush Lake Park. A public boat launch is on the southwest shore, but City surface use restrictions allow only up to a 6-horsepower maximum for motors. The speed limit is 8 mph during the day and 5 mph at night.

Bush Lake has a maximum depth of 28 ft and good water clarity (11 ft in early June). A standard population assessment, consisting of gill nets and trap nets, was conducted in 2013 to characterize the game fish community. Additionally, night electrofishing for Largemouth Bass was conducted in June.

Bluegill were the most abundantly sampled species in the spring trap nets. Catch (18.8/net) was near average (24.6/net) when compared to other similar lakes in the state, although the size structure was small. Fifty-six percent of the Bluegill were between 3.5 and 4.5 inches. Size ranged from 3.2-8.1 inches, averaging 4.5 inches and 0.1 lbs. Historically, Bluegill have been small in Bush Lake, averaging 0.1 lbs over the previous 4 assessments (dating to 1990). Growth was comparable to other similar lakes in the West Metro Fisheries Area. Bluegill were 4.1 inches by age 3 and 5.7 inches by age 6.

Black Crappie were low in abundance in both spring trap nets (1.6/net) and summer gill nets (2.0/net). This low catch was similar to the typically low values found previously. In trap nets, size ranged from 4.7 to 10.0 inches, averaging 8.5 inches and 0.3 lbs. The moderately high average size of these crappie can be attributed to the older ages they are able to attain. The largest Black Crappie were between 8 and 10 years old. Growth was slow. They were 7.7 inches by age 5 and 9.0 inches by age 8.

Catch rates for Northern Pike were high-15.8/gill net-and size structure was fairly well-balanced. Despite a healthy mix of small and larger fish, half were between 16 and 20 inches. Size ranged from 14.5-27.2 inches. Pike averaged 20.0 inches and 1.8 lbs, which is relatively small compared to other similar lakes. The 2013 survey appeared to mark an end to a declining northern pike population. Numbers had been declining for 4 consecutive surveys until this sampling. During these past 4 assessments gill net catch had averaged 9.0/net. Growth was slower than average compared to other similar lakes. Pike were 16.4 inches by age 3 and 22.8 by age 6.

Hybrid (Tiger) Muskellunge management first began with stocking in 1984; however the most recent stocking was in 2006. No natural reproduction occurs. One Hybrid Muskellunge was sampled in 2013. That fish was 38.2 inches and 13.2 lbs. Since their introduction, abundance of Hybrid Muskellunge in sampling gear has been low (0.2/ trap net, 0.4/gill net) and a quality population has not become established, particularly with the stabilization and recent increase of native Northern Pike.

Walleye are not stocked into Bush Lake. Despite this, one Walleye (21.2 inches, 3.5 lb) was found in a gill net. It is not known how the Walleye got into the lake and there in not expected to be a significant population present.

Other species sampled were Black Bullhead, hybrid sunfish, Pumpkinseed, White Sucker, Yellow Bullhead, and Yellow Perch.

A night electrofishing assessment targeting Largemouth Bass was conducted in the spring. Seventy-two bass were sampled at a rate of 42/hour. Relative abundance (42/hour) was average when compared to other West Metro lakes electrofished at night over the past two years (5 lakes, average= 45.8/hr, range = 18.6 102.3/hr). Size ranged from 5.1-18.8 inches, averaging 11.6 inches and 0.9 lbs. The size structure was somewhat balanced with 58 percent of bass between 8 and 12 inches, 22 percent between 12 and 15 inches, and 15 percent longer than 15 inches. Growth was average through age 3, then older (age 4+) fish grew slower compared to other similar lakes. Ages were relatively evenly distributed from 2 through 8; the oldest was age 10. The strongest year class was 2009, which produced 28 percent of the bass.


Recreational activities such as recreational boating, angling, waterfowl hunting, and diving may spread aquatic invasive species. Some aquatic invasive species can attach to boats, while others can become tangled on propellers, anchor lines, or boat trailers. Many species can survive in bilge water, ballast tanks, and motors or may hide in dirt or sand that clings to nets, buckets, anchors, and waders. Fortunately, completing simple steps can prevent the transport of aquatic invasive species.
LEARN MORE
NOTICE: Lake-Link Inc assumes no responsibility or liability for any errors or omissions of the information for Bush. Although we strive to provide the most accurate information as we can the information contained in this page is provided on an "as is" basis with no guarantees of completeness, accuracy, usefulness or timeliness.