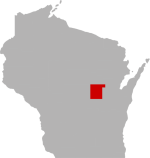 SHARE THIS PAGE
DISPLAYING 1 TO 10 OF 12,361 POSTS
FILTER OPTIONS
Hey Everyone,
Heading up to the Wolf for the first time in years. Unfortunately, I'm renting a boat so I'm going in with no electronics and I'll have to fish based on memory. Going to work that deeper hole near Templeton, obviously the rock wall, but wanted to see if there are any crappie around. I'm assuming docks, downed trees in the river and weed edges in the Bayous. Anything else I should look for? Thanks
FISHING REPORT
Hit me up on our Facebook page or send me a message on here. I work part time and have help but I stay more current on fishing. This time of year bass, crappie, catfish are the best bet but there are still some walleyes around too. I am around more on tuedays and weekends
we also have free maps at shop I can mark up for you
Fremont Bait and Tackle
(920) 505-0145
FISHING REPORT
I haven't got out smallie fishing but will in next a week or two.
Water is really low. You can catch them haven't seen anything big caught. Mostly topwater on the main river. Find spots close to deeper water.
Fremont Bait and Tackle
(920) 505-0145
DISPLAYING 1 TO 10 OF 12,361 POSTS