Long Lake, Fond Du Lac County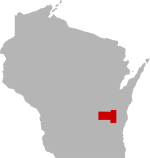 SHARE THIS PAGE
DISPLAYING 1 TO 10 OF 1,683 POSTS
FILTER OPTIONS
Had a meeting an stopped by lake.....was out checking spawning rock reefs last week...water temp around 50 stopped by Bensons launch talked to daughter below is post off their facebook page.
Our Launch is OPEN
Please pay at designate drop box.
Park your trailer & vehicle where indicated .
Help us keep the area clean! So we would appreciate garbage leaving with you.
The Bar is NOT OPEN and we do have tenants in the residence. So,please be respectful of them.
FISHING REPORT
Made the drive up up figuring I might get out..waited out first storm.drilled couple holes put flags in...oh oh. Thunderstorm...under cover now...that might be all she wrote......after T storm fished about an hour....one hit a least I didn't get skunked...with all the water on the ice my 8 in holes enlarged to 10-12 in that short period of time.....ice was still very solid though.....don't know on the wood burner not my property had to ask permission to access lake
Edited post 6:30
FISHING REPORT
Was out this aft 2-6:30 and finally got a meal of Perch. They were very aggressive , and the bait of choice was Lake Shinners...hope you can find some. No snow on the ice ,but windier than all get out and there actually were waves . Ice thickness avg. 18 inches at mid lake. Water was pouring down the holes that I drilled.
Next Sat Feb. 26th is the LLFC Fisheree fish registration is 7am-3pm. We will be set up near the state launch. No food or beverages will be sold on the ice. That will happen at the Sportsmans club in Dundee, and thats were all prizes will be handed out.
Check their website www.longlakefishingclub.com and click latest newsletter scroll down to see a poster for the event. Good luck if you come.
DISPLAYING 1 TO 10 OF 1,683 POSTS