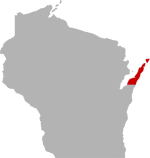 SHARE THIS PAGE
DISPLAYING 1 TO 10 OF 14 POSTS
FILTER OPTIONS
4/30/19 @ 10:16 AM
FISHING REPORT
MOON PHASE (17%)
Waning Crescent
I don't run lighted or other boards at night, pull right off side of boat. It was pretty grapy weather but we caught and released a lot of nice Walleyes. We were in the Sherwood Pt. area in 12ft. of water pulling Smithwicks and Huskie Jerks. We were going about 1.2-1.4 mph. they seemed to bite better one way rather then the other because of current.
Just a comment I don't use boards when fishing at night on shorelines because others need to get in right depth of water to fish also. With a spread of six boards covers a large area. My suggestion is if other boats are present run 2 or 3 boards out on shoreline side so others can pass without going to unreasonably deep water. Try to be considerate of other fisher persons and everybody will have a great time.
Capt. Fritz
J-E Fishing Enterprises
J - E Fishing Enterprises
(920) 743-7877
7/16/17 @ 5:47 PM
Boat currently docked in Sister Bay... Wondering if there is any walleye action here? If so what techniques? I was thinking trolling boards on 2-3 color lead with crawler harness and or sticks? Any Salmon on this side or do I need to move my operation to Bailey's for that. Here from 7/14-7/22 Appreciate any and all- Thanks!
DISPLAYING 1 TO 10 OF 14 POSTS