Ashippun Lake, Waukesha County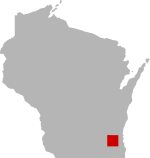 SHARE THIS PAGE
| | |
| --- | --- |
| | @ the lake |
DISPLAYING 1 TO 10 OF 447 POSTS
FILTER OPTIONS
6/28/20 @ 9:28 PM
FISHING REPORT
Evening fishing today from 6 to 8. Caught alot of gills that were released. They were found in the weeds in 12' to 14'. They hit half a nitecrawler. Also caught 2 largemouths in very shallow water. Possible only a foot and a half of water. Largest was 15 1/2". These were also let go to get bigger. A Nice summer evening.
8/29/19 @ 1:36 PM
FISHING REPORT
MOON PHASE (1%)
Waning Crescent
My brother and I fished it last week for bass. We caught several, but none of them would even come close to a legal size. I think this lake is hit hard in the winter and the bass are being cropped off right at 14". We always C&R bass wherever we go.
8/29/19 @ 9:24 AM
FISHING REPORT
MOON PHASE (1%)
Waning Crescent
Fished Tuesday morning, only one largemouth on a senko. I was seeing them suspended in about 18-20 FOW, just couldn't get them to bite. This was my first time here, I was very impressed with the launch. This lake seems to fish bigger than it is. At one point, there were at least four other boats on the water, but only once did I feel crowded or that I couldn't get to where I wanted to fish.
DISPLAYING 1 TO 10 OF 447 POSTS