Lake Darling
Washington County, IA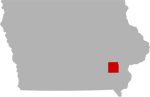 SHARE THIS PAGE
4 miles west of Brighton
No Size Limit at No Wake
Boat Landing
Camping
Public Beach
Trails
Boat Rentals
Playground
Restrooms
Accessible Shoreline
Accessible Pier
Picnicking
Black Crappie
Bluegill
Channel Catfish
Largemouth Bass
Redear Sunfish
NOTE: This list may not be all inclusive of all speices present in Lake Darling.
Black Crappie - Slow: Look for them to remain out in deeper water around the brush piles and rockpiles down about 6 or 7 feet.
Bluegill - Slow: The bluegill fishing remains slow. The brush piles and rock piles out in5 to 7 foot of water using slip bobbers and worm or vertically jigging seem to best.
Channel Catfish - Good: Switch from the stream inlets to the culvert piles near the bank; where the catfish can avoid the heat in the shade. Chicken liver has always seemed to work the best in Darling. Picked up with the flood waters bring in new food.
Largemouth Bass - Slow: The bass are taking it easy in the heat and don't seem to be very hungry. Most of the bass remain out in 6 or 7 foot of water.
Water temperature in the mid 80's. Water clarity is around two feet. Improving slowly. Thermocline at 5-7 feet.
Source: Iowa DNR
The Lake Darling Restoration Project which included the repairing the dam, removing sediment, armoring the shoreline, and new construction of shoreline and boat accesses has been completed. The park, campground, lake and other amenities are now open to the public. Lake Darling reached full crest in spring 2014. The lake filled within about 10 inches of crest by June 18, 2014 before a storm on June 19, 2014 brought heavy rainfall to Lake Darling State Park; completing the lake-filling process. Fingerling (2") stockings for the newly renovated lake started before the basin reached crest. Bluegills were stocked on April 2, channel catfish on May 30, and largemouth bass on June 20, 2014; black crappie were stocked the same year. Future stocking plans include fingerling redear sunfish in fall 2015. Currently, the largest bluegills in the lake are 7.5- to 8.5-inch; smaller 'gills from 2.5 inches (2015 year class) to 6.5 inches (2014 year class) are abundant. The largest crappies caught by anglers are 11- to 11.5-inches; there are numerous 4 inch (2015 year class) -8 inch (2014 year class) crappies in the lake. A good number of largemouth bass have reached 12.5 inches, but anglers will observe many 7 inch bass (2014 year class) and the occasional 15 inch bass. Most channel catfish are 10 inches long, but a few larger cats may be found. Anglers have experienced good fishing in 2015, and can expect excellent fishing in 2016-2017. Exceptional fish growth is often observed in new or renovated lakes, such as Lake Darling, due to the presence of abundant resources as compared to fish community size. Anglers may experience good fishing ahead of schedule. A map showing the location of 25 sediment retention/recreational ponds, which anglers can use, is available at the Iowa DNR Southeast Regional Office located within Lake Darling State Park. Initial stocking date is listed on the map so that anglers can target the most mature ponds for bluegill, largemouth bass, and channel catfish.(2015)
CONTACT / CONTROLLING AUTHORITY
NOTICE: Lake-Link Inc assumes no responsibility or liability for any errors or omissions of the information for Lake Darling. Although we strive to provide the most accurate information as we can the information contained in this page is provided on an "as is" basis with no guarantees of completeness, accuracy, usefulness or timeliness.