Sand Lake, Sawyer County, Sawyer County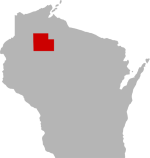 SHARE THIS PAGE
DISPLAYING 1 TO 10 OF 80 POSTS
FILTER OPTIONS
9/18/20 @ 7:18 PM
FISHING REPORT
MOON PHASE (3%)
Waxing Crescent
Was up this week...now for a report which AIN'T much Anyway one the slowest weeks I have ever had. Managed a few eye's 12-16 an one northern, all CPR, all while ROW trolling in 25-30 fow on nightcrawlers. Did not get a hit on minnows. Usually had some good action in the evening....it was non-existant for me ...not one hit . To top that off I did not catch any panfish....which is very unusual. Not whinning just in awe. Will I be back...yes..just one of those weeks. Water temps 60-62. If you are a duck hunter which is opening soon huge flights came in each night...mostly after shooting hours. 30 degrees when I left early this morn heavy frost...looks like nicer weather on the way..enjoy.
7/1/20 @ 1:04 PM
FISHING REPORT
MOON PHASE (85%)
Waxing Gibbous
Just saw some of the recent posts on Sand. Sasquatch8 - I was told the sonar clouds are possibly due to zooplankton and/or algae. I especially notice similar clouds near the bottom 10' in the winter on my flasher. I saw the mayfly hatch last weekend - big ones (green drake I think)! I also find walleye fishing to be frustrating and wonder why it isn't better. Apparently 15-20 years ago, Sand was considered one of the better local walleye lakes. I've heard all the reasons (spearing, regs, shore owners, northern pike), but similar situations exist on other very good walleye lakes. I don't think Sand Lake shore owners are any worse (or better) than other lakes. Plus, I don't see a ton of fishing pressure.
As for pike, just cast spinner baits near the reeds or weed beds and you should find them. It's also near the time of year where buzz baits are a good option. I think perch are the major forage on the lake. Biggest mystery to me is why there are so few sunfish/bluegills - almost none.
7/1/20 @ 10:56 AM
FISHING REPORT
MOON PHASE (85%)
Waxing Gibbous
Fishing was pretty bad last weekend, i am going to blame a mayfly hatch. Just curious if anyone knows forage base for this lake. Also, most places deeper than 25' are a snowstorm on sonar during the day, but after dark that rises up and suspends like a huge bait ball at 10-15'. Anyone have any idea what that is?
6/18/20 @ 11:22 AM
I have really been struggling out there. Only catching a few small perch and small walleye. Havent come across this abundance of small northerns i have been hearing about either. It is entirely possible i just suck at fishing, but aside from opening weekend I have been skunked more often than not out there. If someone wanted to point me in the direction of these small northerns I would be happy to assist in taking a few out of the lake, aside from the bones, they are just as good as walleye in my opinion, just cant seem to find them
6/17/20 @ 3:33 PM
They are all going into someones freezer. Ive seen this lake raped by the shore owners in open water, and natives in the winter. you wont see a spawner more than 19'' when they go to spawn. I live one mile away and they go up our creek, that is what I see. I quit fishing it because its just too disappointing. however there are some huge musky, I saw one this spring in the creek and it was a forty- forty two inch. who is going to check shore owners they arent coming in to a launch where some one can check the catch
6/17/20 @ 12:21 AM
The decline in quality walleye fishing (both in numbers and size) seems to be a problem with other lakes in the ceded territory of NW Wisconsin as well - I've read about DNR biologists concerned about this problem - they seem to be at a loss to definitively explain why it is happening. I've also experienced firsthand and heard from others about the abundance of northern (mostly smaller ones) in many lakes too. So Sand Lake is not the only lake that this is happening.
DISPLAYING 1 TO 10 OF 80 POSTS