Port Washington Harbor (Inside Harbor Only), Ozaukee County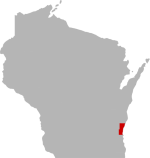 SHARE THIS PAGE
DISPLAYING 1 TO 10 OF 2,718 POSTS
FILTER OPTIONS
dirty dipsey ive been fishing port for 36 years and i have never seen so many rude boaters in my life yes boaters have the right of way but have respect for the shore fishermen as well....you people with boats have the whole dam lake no reason for you guys to come that close to the shore fishermen to begin with...and i will add that back in the day if you came that close to the peir there would be chuncks of lead thrown at your boat...and i know people that still would do that....ive seen that a million times....so dont be a douchbag!
Easy way to fix the douchey boaters situation is a heavy sinker :). Got the whole area to fish but they choose to do douche things and cut off less fortunate anglers. See this crap on the Mississippi River too by the "all mighty boater". Not all boaters are that way but there are a lot with that douche mentality and all I can say is heavy weights and cast away
Dirty dipsy,
I have both. I do both. When boats come into the north slip through a tight gap driving past peoples floats and then spot lock where people are trying to cast and float its unnecessary and rude. Theres a whole lake and marina accessible by boat, its ridiculous. The people on private charter docks are just as bad.
The north slip draws people from 6 hours away to come float it and brings in money to Port. If i was one of them and saw a boat spotlocked where people are trying to fish from shore id be pretty pissed. But clearly you are part of the problem that thinks this behavior by boaters isnt being a massive douche but is instead perfectly acceptable.
DJ-Muskyhunter
Its because its crowded on shore and your fishing a a port that is heavy for with boats. granted alot of the charters are a holes down there.
I get your a shore fisherman but the water way is for boats and ultimately boats have the right of way. Dont like it then get a small boat and jig from that then boats will have to do legal movements to get out of your way.
there are streams you can go to for salmon where boats cant go so I suggest if you have a problem with boats going where boats are suppose to go you fish where people are suppose to go.
I do both shore and boat fishing and really dont care what your opinion is on the matter :)
FISHING REPORT
1 for 2 from 6pm to 715pm. A very acrobatic bug buck dragged me around for a bit and broke me off. 8lb buck in the net to make up for it.
If you have a boat and you park it in the north slip to float skein.....why? The shore is crowded enough and you take away from the guys casting. Its flat out rude.
DISPLAYING 1 TO 10 OF 2,718 POSTS