Moose Lake, Waukesha County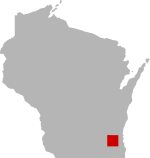 SHARE THIS PAGE
DISPLAYING 1 TO 10 OF 484 POSTS
FILTER OPTIONS
Fishing_fever89, Moose is just like Pine , just this season alone I have watched people blow through a shoreline or a weed patch so fast a stop watch could be used , then I come in before or behind them working a bit slower taking time for the fish to react to my bait and hook them. Clear water in my experience only hurts you when you rush and dont take time to look where you are and where the fish are . Tight lines
FISHING REPORT
First time fishing this lake yesterday. Clear water lakes have always been my nemesis. Threw spinners and cranks along drop off/weed edge. No bites started throwing weedless soft plastics to the shores still nothing. Beautiful day out though. Not giving up ill be back.
Hey, Carlos.

My buddy and I (the two big dudes who walked around the whole lake) had the same story.

One 8" pike on a tip up, missed a big one not much later. Jigged up a few nice gills, nothing of numbers.

The perimeter of the lake was safe for us the whole way, but the bay to the left of the launch on the other side of that long land point, we almost went for a swim. We walked in to the first dock and the ice started sinking under us and it only took one whack of the spud to go straight through. I wouldn't go in there any time soon.

If anyone decides to give it a try, follow the frozen foot steps and travel will be easier than walking through the slush, that is until this weekend. Sadly the bite has been tough just about everywhere I have tried this past month.
FISHING REPORT
Went out yesterday morning, 4 other anglers out as well, 1 maybe 12in pike on the tipup, and missed one more in the 5 hours we were out. Didnt see anyone else catch anything. Caught a few small gills scattered about on the jigging rods but couldnt find much of a concentration after hopping around to most of the usual spots.
4 inches of good ice in most places, with another 4 of slush on top. That slush is gonna be terrible to walk through after the warm weather this weekend! Ice was still sketchy the closer to the middle you got.
DISPLAYING 1 TO 10 OF 484 POSTS