Little Sturgeon Bay, Door County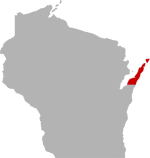 SHARE THIS PAGE
DISPLAYING 1 TO 10 OF 4,147 POSTS
FILTER OPTIONS
6/15/19 @ 8:43 AM
FISHING REPORT
MOON PHASE (97%)
Waxing Gibbous
I'm guessing it was the picture on the podium that was causing that bit of snarkyism. Believe it or not, a large contingent of locals can't stand tournament fisherman, and only find them palatable based of the egregious sums of money they bring to Door County.
6/11/19 @ 2:02 AM
FISHING REPORT
MOON PHASE (66%)
Waxing Gibbous
This report is a little late but I just wanted to let everyone know the smallmouth bite was really hot about a week ago I was fishing the WISCOBASS Tournament. I did manage to catch a nice limit of 5 smallmouth bass. They all came in less then 3' of water.
Anglin' Adventures
(920) 479-8872
5/22/19 @ 12:52 PM
Good afternoon guys,
Will be up by egg harbor area for camp this weekend and was wondering if I may get some pointers on the fishery. Was there last year same time and the smallies were spawning so it wasn't hard to find them. This year is saying otherwise with the current temperatures so not a real clue on where to look. Any tips on what type of lures are good and areas to look for would be awesome! Tight lines and good luck out there.

DISPLAYING 1 TO 10 OF 4,147 POSTS