Lake Namakagon, Bayfield County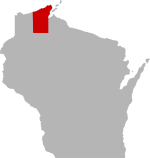 SHARE THIS PAGE
DISPLAYING 1 TO 10 OF 431 POSTS
FILTER OPTIONS
FISHING REPORT
MOON PHASE (58%)
Waxing Gibbous
Have spent many days exploring the last week. Here's what I know:
Ice is generally around 15 inches but there are definitely thinner spots to watch out for. On Lower give a wide birth to the little strip of Island to the left of the launch as you're facing the lake. There is a large shanty size area that looks different and it is. 2 inches. That spot in about 20 feet from the strip Island. I walked 10 feet toward the basin and I was back on the main shelf. Almost seems like it was cut with a chainsaw recently. With the wind blowing the snow it will be covered. Give that little island a wide birth.
I put my foot through on the backside of Buck Island. There is always some current there and I found some scary stuff. As your coming out of Lakewoods don't sled between Buck Island and shore. Stay on the main basin side of Buck Island and ice is fine. I wouldn't be driving a truck anywhere up here yet. Some lake have spots with heavy snow and thin spots. It's not ready in my opinion. I walked everywhere although ATV and sleds are getting around fine.
Fishing- I am used to fishing pike in very shallow water on river systems. That just wasn't working. I did not find pike in weeds. I found them between the edge and the abyss. 2 feet off bottom seems about right.
I had 2 days I really struggled. I was trying new spots and some of them weren't worth the walk or effort. Lower seems even darker than usual so attractors for pike a great idea. Upper is pretty clear and attractors didn't work as well as fluoro.
I had one day I caught 16 pike and not one was over 27 inches. I'm not keeping them so no problem there but some heftier pike are always fun. I did run into some bigger pike today.
If you're ice fishing Namakagon it's smart to get off the ice before dark because that is sled time.
FISHING REPORT
MOON PHASE (31%)
Waxing Crescent
Fished Namakagon the second week of September for 4 days. Was mostly fishing for Northern and Muskie. Threw every type of lure known to man, fished points, lily pads, weed beds etc... totally skunked. Other members in our group hired a guide and got some crappie, an 18" northern (snake) and a small walleye and that was after 6 hours of hard fishing. Talked to locals and they said the lake had been slow all year. Not sure why, the weather was absolutely perfect and the weed beds were healthy and the lily pads were mature and lake laid down like glass. Sad that such a beautiful lake produced no fish. Be curious to see what DNR does next year to increase the population.
DISPLAYING 1 TO 10 OF 431 POSTS