Kewaunee River Footbridge, Kewaunee County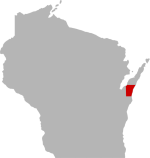 SHARE THIS PAGE
DISPLAYING 1 TO 10 OF 455 POSTS
FILTER OPTIONS
Living a couple hours away, am curious what the ice conditions on the Kewaunee River are. Hoping for open water, but... It looks like (from the USGS site) that the ice is still on the river.
But, am curious from locals if it looks like it will be gone by this weekend?
If you'd like to PM me, that would be great too.
Thanks.
Peace of the Lord be with you.
I grew up in the area, and have often come that direction for Steel and Browns through the ice. I am a pastor living near Shawano and am thinking of coming that way to give it a try through the ice. Any kind of information about conditions or whether fish are in would be appreciated. I have an idea of where to fish, and how... Am wondering about ice conditions and the presence of fish before making the 2 hour trip.
You can PM me to let me know if you'd rather not post something public.
You are all in my prayers for safety on the ice and safety from this.... yeah, let's leave that just that way.
Thanks in advance.
Peace of the Lord be with you.
DISPLAYING 1 TO 10 OF 455 POSTS