Fox River DePere - Voyager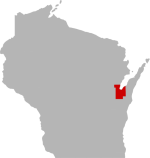 SHARE THIS PAGE
DISPLAYING 1 TO 10 OF 16,330 POSTS
FILTER OPTIONS
10/26/20 @ 7:14 AM
Hi,
For those who use the Metro Launch at the mouth of the Fox River, has salt been used at the boat launch parking area, or on the roadways in the city of Green Bay (and I-43 in Brown County) yet this season? I do not want to trailer the boat if salt has been used on the roadways.
Thanks much!
10/26/20 @ 1:32 AM
FISHING REPORT
MOON PHASE (80%)
Waxing Gibbous
Md1988, the water has to be better than Saturday.. it was muddy with 3" visibility, maybe. Water temp was 44 if I remember correctly and the current was strong, as you would expect after a few inches of rain. Marked plenty of fish but there were no takers and I didn't see any nets out either. It was nice to be on the water after a crappy few weeks of wind and rain. This week looks like it could be promising, I do believe we're due for a few days of decent weather.
10/24/20 @ 4:22 PM
Fall fishing can be both fantastic and frustrating. Clear water dictates low light shallow water bite. All the way up to dam. I've caught high 20's a number of times. Most boats bail at dark. Jig bite is good on current breaks during daylight. Week of gun season takes pressure down to zip. Best time to fish but it's good right up to ice time. Bigger fish already have eggs. Just really early spring fishing. With temps already in 40's cast cranks. Slow and big is the trigger. During week u will have ur choice of spots after dark.
DISPLAYING 1 TO 10 OF 16,330 POSTS