Day Lake Flowage, Ashland County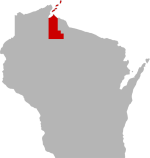 SHARE THIS PAGE
DISPLAYING 1 TO 10 OF 202 POSTS
FILTER OPTIONS
7/31/19 @ 2:48 PM
Nope on the walleye.............DNR planted 1000 fingerlings a number of years ago...........that was before draw downs and freeze out, so I highly doubt many if any survived....but it would be nice to think that someday they will be there.....the river has walleye, the lake should be able to support them if the musky and bass weren't so thick.
7/31/19 @ 7:28 AM
FISHING REPORT
I forgot my fishing report for July 20th. Boated a 36" ski and missed a giant. Really wasn't expecting the big one but it was there and after speaking to a nice couple at the boat launch, it swiped at their lure too. They were casting in that location an hour before us, which proves, with musky fishing, it doesn't matter what your position is in the boat. It's when they decide to turn on and what lure they want to hit.
I've had my best success with a #5 White Mepps spinner with a white blade. Keeps the little guys off. They follow enough but don't bite as much. Most of my musky catches are 32" and up.
You can pick up a fish or two casting the west shore but most of the fish I boat are in the northern bogs. I love casting around that little rocky island before you enter the bogs. I can't seem to catch a fish there but it looks too damn good. It's always wind blown, which leads me to believe fish would be stacked up there.
I've always thought about trolling the deeper channel too. I always mark fish in the deep when traveling from one end of the lake to the other. The bigger marks are obviously musky but I wonder if some of the medium marks are walleye since they're listed by the DNR as being in there.
Lawdog, ever catch walleye in Day Lake?
7/31/19 @ 7:17 AM
Tarsal gland............forgot to answer the other question. concentrate on bogs and floating crap. Work waters between these areas. I throw medium heavy 7ft rods with low profile bass reals with 40 lb braid. I use medium bass spinners to allow coming through the weeds and crap easier. Killer combination..
Oh and 28 inch size on musky and 18 inch size on bass.....so eat a musky or two and thin the herd....lol..
7/12/19 @ 8:13 AM
We used to cook them in tin foil over fire, with lemon tomato and salt /pepper. Sometimes just a good old fish batter and fried over fire. Musky is good eating, and the little ones taste the best.
We started fishing Day Lake in 1974, and Dad camped there for weeks every year until about 3 years ago, so we probably passed each other on the lake a few times.
Oh, I buy my bass spinners at walmart. $1 a pc and I don't feel bad when the musky bites one off. lol
7/9/19 @ 6:46 PM
Been saying it for years, down size your baits, and get ready for some crazy action. Bass spinners and braid is the only way to go. Oh, there are a few big musky in there, but not many. Enjoy the fishing, but remember, bass is one a day 18 inches, musky is one a day 28 inches. Keep the musky for lunch and let the bass go. Musky is pretty good, and there are way too many in the lake.
DISPLAYING 1 TO 10 OF 202 POSTS