Day Lake Flowage, Ashland County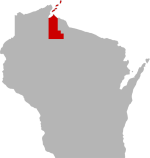 SHARE THIS PAGE
DISPLAYING 41 TO 50 OF 202 POSTS
FILTER OPTIONS
5/14/17 @ 8:16 AM
Gonna give Day Lake another try. Did not fish the lake last year, heck didn't get out but once last year total. But, gonna give her a chance to show me that she ain't dead. Now that being said, I have been told that they have a walleye size limit on Day Lake. WOW....seeing how she never held walleye and the thousand or so fingerlings they planted several years ago probably died in the freeze out or got eaten by the musky, should be interesting.
Like I said before. The Forest Service should worry about the forest and leave the lakes alone.

8/27/16 @ 6:42 AM
This used to be the finest bass fishing lake in northern Wisconsin. 30 to 50 bass days with an average of 15 inches in length was not uncommon. Plenty of musky to take the novice and let them experience the fishing. Now 2 draw downs and a freeze out have turned the place into a mess. They wanted to kill off some of the weeds and open some of the water from the floating debris. They have accomplished neither, last year there was more floating garbage than I have seen in almost 30 years and the weeds were as thick as I have ever seen. The Forest Service is exactly that "forest" stay the heck out of managing lakes, because frankly your not very good at it.
8/23/16 @ 11:17 AM
FISHING REPORT
MOON PHASE (66%)
Waning Gibbous
We made our annual trip to Day Lake last week. Fishing is the same. Very little to no action on bass, still some small musky. If they keep draining this lake it will unfortunately most likely be dead in the next 5 years. A shame. This used to be a great little lake to fish :(
11/16/15 @ 11:58 AM
With the drawdown, I have not been there, I would assume the only water you could reach at this point would be near the dam itself..............I would also think that the fish in the lake that made it would be in that channel area in large numbers.......not sure how hungry they would be as they should have easy picking.
8/6/15 @ 5:37 PM
FISHING REPORT
Fished 8-4-15 with 3 of us in boat. 2 musky 1 bass in about 5 hours of fishing. The lake has a lot of trash coming up from the bottom and the weeds are getting bad.
So much for the draw down killing off the weeds and clearing the debris.....seems to have done just the opposite. Maybe the Forest Service should leave well enough alone.
After the freeze out a couple years ago, its gonna take a while for the bass to bounce back
DISPLAYING 41 TO 50 OF 202 POSTS