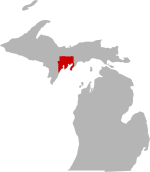 SHARE THIS PAGE
DISPLAYING 1 TO 10 OF 4,137 POSTS
FILTER OPTIONS
7/30/19 @ 9:23 PM
I know this is for bay de noc, but Im curious if anyone has fished little lake in Marquette county. I'm coming up and camping there at the end of August and I can't find any reports on that lake. I'd like to target perch and walleye. Is there certain live or plastic baits that work good? Or jigs?
thanks in advance
7/22/19 @ 8:01 PM
FISHING REPORT
MOON PHASE (72%)
Waning Gibbous
We fished all day on 7/22 for Smallmouth...Covered all areas from the Whitefish River, Sand edges down the east shoreline south to Hunters Point.Fished from the south edge of the Days River mud all the way to Butlers Island...two Pike...total!
Toughest Bass bite I've seen in 30 years...but the good news is there are zillions of Gobies...We snagged several dragging tubes.Water clarity was muddy... I'll wait until Sept to return.
Read Pro Staff Bio
Northwoods Adventures
(906) 774-9728
7/2/19 @ 8:46 AM
FISHING REPORT
Fished Big Bay on 6-30. Was only able to catch 3 small smallmouth. Fished from garden peninsula south to fayette park. Went all the way back in south river & still nothing. Fished the drop offs, around any boulders I could find & tried shallows. Threw tubes, spinner baits, swim jigs, chatter baits but just wasn't able to get into them. ??
Would like to go back soon so anyone with any tips would be appreciated..
DISPLAYING 1 TO 10 OF 4,137 POSTS