Horton Lake
Hancock County, IL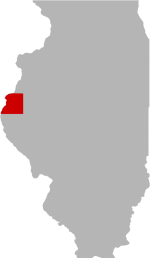 SHARE THIS PAGE
Located in Nauvoo State Park in western Illinois' Hancock County, on the south edge of Nauvoo along Illinois Route 96.
Horton Lake was built in 1967 to provide fishing opportunity to patrons of Nauvoo State Park. The lake is 13 acres with a maximum depth of 26 feet, an average depth of 13 feet, and shoreline length of 3000 feet. A primitive boat ramp and bank fishing are available. The lake features clear water and a peaceful setting located on the edge of town. Camping, picnic areas, hiking trails and a museum are available.
Two pole and line fishing only for all species. Boats can be powered by electric trolling motors only.

Site Regulations:

Largemouth bass: 18" minimum lenght limit, 1 fish daily limit
Channel catfish: 6 fish daily limit
Northern Pike: 36" minimum length, 1 fish daily limit
Electric trolling
Boat Landing
Camping
Swimming
Boat Rentals
Picnicking
Skiing
Black Crappie
Bluegill
Channel Catfish
Largemouth Bass
Northern Pike
Rainbow Trout
Redear Sunfish
NOTE: This list may not be all inclusive of all speices present in Horton Lake.
BLACK CRAPPIE
IMPROVING
A group of Black Crappies survived the winter kill in 2013/14 and measured 9"-12" in the 2018 survey. The 2018 survey showed a catch rate of 20 crappie/hr of electrofishing, where 36% of the catchable population measured over 8". Only one Black Crappie was collected in 2019. Sampling crappie species can be challenging with electrofishing equipment since the tend to inhabit deeper waters when water temperatures are warm. There is currently no restriction on crappie harvest at Horton Lake.
BLUEGILL
IMPROVING
The Bluegill population at Horton Lake is currently characterized by a high density of fish measuring 3-4" in less than desirable body condition. The Bluegill population will not improve until the predator species are better established.
CHANNEL CATFISH
IMPROVING
Little is known about the Channel Catfish population following the winter 2013/14 fish kill. No Channel Catfish were collected in the 2018 survey. Channel Catfish are stocked from the State Hatchery system on an annual basis, so the population should recover well. The current Channel Catfish regulation is 6 fish/day with no minimum length limit.
LARGEMOUTH BASS
DEVELOPING
The Largemouth Bass population consists of only brood fish stocked from the State Hatchery system in June 2016. The three Largemouth Bass collected in 2019 ranged in size from 19 – 21", weighing up to 6.7lbs. The fish community survey showed no bass other than the brood fish, which suggests that bass fry produced by the brood bass or the bass fry stocked by the hatchery system did not recruit to larger sizes. The lack of recruitment may be a result of high predation pressure by the dense black crappie population. Only one Black Crappie was collected in 2019; however, samples from previous years indicate that the Black Crappie population is robust. Warm water temperature (74F) during the 9/23/2019 survey likely resulted in a poor crappie sample. The lake received a supplemental stocking of 3"-12" Largemouth Bass from Siloam Springs on 9/26/2018, however those fish were not detected in the 2019 survey. Largemouth Bass were requested through the hatchery system for 2020. Anglers are asked to practice catch and release with Largemouth Bass for the next few years until the population becomes established and stable.
NORTHERN PIKE
POOR
Two groups of Northern Pike were stocked into Horton Lake following the 2013/14 winter fish kill with an attempt to establish a Northern Pike fishery. We collected 5 pike/hr electrofishing in the 2016 survey ranging from 13 – 20" and 5 pike/hr electrofishing in the 2017 survey ranging from 21.5 – 28". The 2018 survey produced 1 Northern Pike at 27" which showed poor growth rates and body condition (Wr = 83). One Northern Pike was collected in 2019. It measured 25" and weighed 2.9lbs.
RAINBOW TROUT
VERY GOOD
Rainbow trout are stocked with our Catchable Trout Program in the Spring and Fall. Trout creel limit is 5 per day, except for spring and fall closed seasons when catch-and-release fly fishing is permitted.
HISTORY AND STATUS OF FISHERY
The sport fishery includes largemouth bass, black crappie, bluegill and channel catfish. The lake receives largemouth bass and channel catfish stockings. In addition, Horton Lake is one of several lakes across IL that offers the Catchable Trout Program. Catchable size rainbow trout are stocked every spring and fall for anglers to enjoy catch and release fly fishing prior to opening day and harvest of 5 trout/day after opening day. Anglers must possess an inland trout stamp, in addition to a valid sportfishing license to participate in this program.
CONTACT / CONTROLLING AUTHORITY
Nauvoo State Park
Park Staff
217-453-2512
IDNR Fisheries Biologist, Blake Ruebush
217-622-7219
NOTICE: Lake-Link Inc assumes no responsibility or liability for any errors or omissions of the information for Horton Lake. Although we strive to provide the most accurate information as we can the information contained in this page is provided on an "as is" basis with no guarantees of completeness, accuracy, usefulness or timeliness.