Greenfield City Lake
Greene County, IL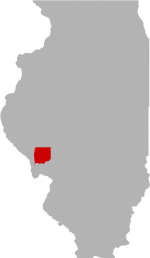 SHARE THIS PAGE
Greenfield City Lake is in southeastern Greene County, one half mile east of Greenfield, Illinois. The lake is south of Chestnut Street and the boat ramp can be found from Rives Lake Drive.
Greenfield City Lake is under cooperative management between the Illinois Department of Natural Resources and the City of Greenfield. Greenfield City Lake is located within Patriot's Park and has a trolling motor only motor size limit. There is one gravel ramp on the northwest end of the water body.

REGULATIONS:

- Two pole and line fishing only and each pole must not have more than 2 hooks or lures attached while fishing.
- Largemouth Bass – 1 Fish greater than or equal to 15" and/or 5 Fish less than 12", 6 Fish Daily Harvest Limit.
- Bluegill or Redear Sunfish - 25 Fish Daily Harvest Limit.
- Channel Catfish – 6 Fish Daily Harvest Limit.

Bait and tackle can be acquired in Greenfield. Boat Stickers can be purchased from Midtown Mart at 501 Main Street. Camping, and picnicking are available on site.
Electric Only
Boat Landing
Camping
Swimming
Boat Rentals
Picnicking
Skiing
Bluegill
Channel Catfish
Crappie
Largemouth Bass
Redear Sunfish
NOTE: This list may not be all inclusive of all speices present in Greenfield City Lake.
BLUEGILL
EXCELLENT
The 2019 Bluegill catch rate was down 50% from 2017 (catch rate=210 fish/hour) to 2019 (catch rate=104 fish/hour). In 2019 44% of catchable sized fish were over 7 inches and 4% were over 8 inches.
CHANNEL CATFISH
GOOD
No Channel Catfish were collected in 2017 or 2019. The IDNR Hatchery stocked 1,479 7.3" Channel Catfish on 8/6/2018, however those fish were not detected in the 2019 survey. IDNR will continue to stock Channel Catfish as hatchery production allows.
CRAPPIE
GOOD
Both White and Black Crappie were collected in 2019. Only White Crappie were collected in 2017. 86% of both Black and White Crappie collected in 2019 reached 9" or greater. 57% of the Black Crappie collected in 2019 reached 10". 28.6% of the White Crappie collected in 2019 reached 10". The dense Largemouth Bass population should help keep these two species from overpopulating. Anglers should be encouraged to harvest crappie species.
LARGEMOUTH BASS
EXCELLENT
Largemouth Bass catch rate (catch rate=282 fish/hour) was very high and almost exceeded the highest recorded catch rate of 311 bass per hour, which occurred in 1995. This lake has consistently produced bass catch rates of over 100 fish/hour of electrofishing. The 2019 survey catch rate (catch rate=282 fish/hour) was more than double the 2017 catch rate of 124 bass/hour. Largemouth Bass collected ranged from 4.3-22.8". 52% of the bass sampled ranged from 10-14". The high density of bass in the 10-14" size range is keeping panfish numbers in balance and is promoting better panfish quality.
REDEAR SUNFISH
VERY GOOD
Like the bluegill population, the Redear Sunfish structural indices are improving. A higher number of catchable sized fish are reaching 7" (29%) and some are measuring over 8" (4.2%).
HISTORY AND STATUS OF FISHERY
Approximately 10 fish groups have been captured in this lake. These species are as follows – Largemouth Bass, Bluegill, Black Crappie, Channel Catfish, White Crappie, Redear Sunfish, Green Sunfish, Golden Shiner, Common Carp, and Hybrid Sunfish.
CONTACT / CONTROLLING AUTHORITY
City of Greenfield
217-368-2870
IDNR Fisheries Biologist, Blake Ruebush
217-622-7219
NOTICE: Lake-Link Inc assumes no responsibility or liability for any errors or omissions of the information for Greenfield City Lake. Although we strive to provide the most accurate information as we can the information contained in this page is provided on an "as is" basis with no guarantees of completeness, accuracy, usefulness or timeliness.