Green & Gold Guide Service
SHARE THIS PAGE
(920) 676-6905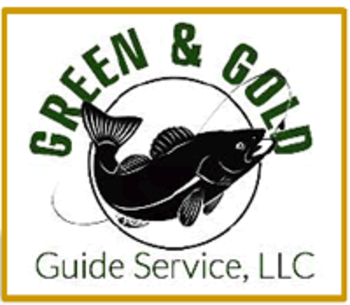 LL $AVINGS
LAKE-LINK MEMBER ADVANTAGE SAVINGS
Lake-Link Members 10% Discount on any fishing trip
Only one discount per visit. Discounts may not be used with other special offers. Must provide your Lake-Link Member card and/or Member number to recieve discount.
Click here to learn more about the Lake-Link Advantage Program.
Let's Get Hooked
Green & Gold Guide Service is a fishing guide service located in Green Bay, Wisconsin run by Captain Jim Kleist. I live minutes away from the West shore of Green Bay, and began fishing there back in 1989. I guide for multiple species on Green Bay and its� river system including the Fox, Menominee, Peshtigo, and Oconto rivers. Lake Winnebago is also a favorite and I spend half of my time chasing walleyes on the Winnebago system.
Open water walleye fishing starts in March on the Fox River in Green Bay and the Wolf River on the Winnebago system. I will be out casting jigs and plastic for some of the best fishing in the country. I encourage you to set up a trip with me February, march and April for Giant fish and good numbers of walleyes.
What sets me apart form many guides out there is that I prefer to cast baits and jigs versus troll for walleyes most of the time. There is nothing better than feeling that fish pick your jig or smashing a crank bait you are casting.
Trolling is a great way to catch fish and find the schools of walleyes that I put my clients on in large areas of opeing water.. Often trolling is the most efficient way to go and can be a lot of fun too when they are really snapping out there!
I love to walleye fish and I also like to show folks learning how to become better anglers so they can develop skills to put more fish in the boat too! Fishing is a lot of fun on my boat so give me a call or email me right now!
Our Boat
My boat is a Yar Craft 209 TFX. Powered by a Yamaha 250 four stroke outboard.
This boat has a reputation of having a smooth safe ride in the Great lakes rough water. Safety is Paramount for my customers.
I have a marine radio, life jackets, Lowrance GPS to help pilot my customers safely any where I fish. I have a comfortable large boat that can accommodate up to 4 passengers perfect for trolling or casting baits/lures.
I am a guide that prefers to cast and throw baits for walleyes as opposed to troll. The bow has 2 seats for casting, Stern has 2 seats for casting, and the cock pit area can fish 2 or 3 anglers. I guide a wide variety of ages and physical abilities my Yarcraft will keep you comfortable ,safe so you can concentrate on makeing a perfect cast to your trophy walleye.
What To Bring
Wisconsin fishing license
Proper clothing (rain gear, wind breaker, layers)
Your own lunch (I will provide beverages.)
A cooler to take home all your fish
Your camera to record all the memories
PLEASE NOTE: Rates subject to change without notice.
Waters Guided
Bay of Green Bay
Fox River
Menominee River
Wolf River
Fish Targeted
Coho Salmon
Lake Trout
Walleye
White Crappie
Yellow Perch