A Big Fish Guide Service
SHARE THIS PAGE
(414) 546-4627
(414) 779-0479 - mobile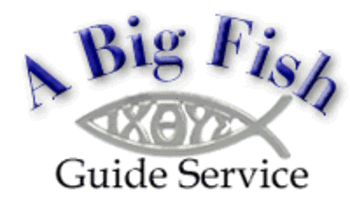 A
Big Fish Guide Service
, we are one of the best Wisconsin fishing guides and Wisconsin fishing Charters in the Midwest. We offer numerous types of fishing trips with an emphasis on catching "Big Fish" here in Wisconsin!
Click here to view our latest fish reports or click here to visit the client pics section.
We're a multi- specie guide service, which basically means that we fish for everything that swims. I specifically like to target the biggest, and hardest fighting freshwater fish available, and typically I like to have my clients chase these fish with stand up tackle (spinning rods or bait casters) or casting tackle etc.. I do troll for fish but it's typically at a last resort or if clients want to troll. You can choose where and what you want to fish for, we do the rest. Most of our trips are in the southern part of Wisconsin, However each spring and Fall I fish in Green Bay for trophy walleyes and muskies and even big catfish.
I'm a full time Wisconsin Fishing Guide and Great Lakes charter captain. I guide every month of the year on the water of Wisconsin and Green Bay. We are generally targeting the "hottest" bites at that given time of the year. You can be sure that we'll be able to satisfy whatever type fishing you're looking to do.
I will show you the latest tips and technology to help you catch fish here in Wisconsin and also put more fish in your boat, or from shore. If you're looking to take your family fishing here in Wisconsin, go yourself, or set up corporate trip for customers and clients you've come to the right place. We run professional guides for corporate outings and big groups to ensure you and your customers have a great day fishing.
WINTER - December-February
Wisconsin's World Class Brown Trout Fishing * Milwaukee Harbor Brown trout * Ice fishing Wisconsin
We have the Worlds best Brown Trout fishery from November-March! I run more ice fishing trips and open water Brown trout trips than anyone in the Midwest. I specifically target trophy brown trout. The Milwaukee harbor rarely freezes over and most of the year we can still get out in the boat or airboat if you choose not to ice fish. One of the unique things about my style of fishing for big brown trout is I prefer to fish them with stand up tackle such as spinning rods, float rods, and bait casting rods. I will also troll for the big browns which can be very effective as well.
When some of the smaller marinas and smaller harbors freeze over, is when I will start to ice fish for big brown trout. We target several different species in the winter when Ice fishing. The most popular being big brown trout / rainbow trout through the ice. The Brown Trout can reach 30+ lbs and fight incredible through the ice. A typical day on the ice for trout is about 6-15 brown trout and or steelhead through the ice. Most of this fishing is done with jig poles in heated ice shelters that we provide. We supply all the gear and bait! You get to enjoy the best brown trout fishing in the world open water or through the ice.
* Best time for big brown trout is November- March!
We also fish for brown trout in the winter out of the boat, here in the Milwaukee Harbor all winter the ice in the main harbor comes and goes and most of the winter you can catch Lots and Lots of brown trout in the boat 40+ fish days on spinning tackle are almost normal. There's no where in the world that can compete with our fishery here in the Milwaukee Harbor in the winter for brown trout. It's that good!
* Reserve your brown trout or steelhead trips ASAP we are booked solid every winter and spring!
SPRING - March-April
Starting in late March when the ice starts to melt, I will start to take clients steelhead and brown trout fishing in the rivers and tributaries here in Wisconsin. This is all done from shore (usually in waders)... These fish come in from Lake Michigan and are a blast to catch on lighter tackle and drift rods, which are provided to clients. Steelhead or Rainbows are some of the best fighting fish you'll ever catch and they're fairly easy to catch. If you have not tried steelhead fishing I highly recommend you try it!
Trophy walleyes!
I also guide for big walleyes in the spring on Green Bay. I will show you how to slip the river, jig fish, anchoring, and even trolling if allowed in the river we fish. Spring is a great time to catch that trophy walleye of a lifetime. Green Bay also holds some of the states largest predator fish the Northern Pike and April is a great time to target big pike in Green Bay. Green Bay is easily the best Big walleye fishery in the state !!
Also, after the ice is out on the lakes I will fish for Bluegills, Crappies, and Perch. These are some of the best eating fish you can catch. On light tackle they are also very fun and challenging to catch.
SUMMER - May-August
Wisconsin Bass Fishing
Summer is also one of my favorite times to fish because there are so many different fish that are active, you can almost never go wrong on a summer trip. I also love to fish for giant largemouth and smallmouth bass. There are several lakes in the area that consistently produce largemouth bass over 20 inches on many fishing trips out, with bass over 5 lbs being common. If you're looking how to skip docks, jig fish, drop shot, fish a Carolina Rig, fish top water, Texas rig, jerk bait, or crank bait them, or fish slop, I will show you what will work and explain why and how. Catching big small mouth bass is one of my favorite fish species to fish for here in Wisconsin!
* Best time is May/June and October for small mouth bass, and May-September for large mouth bass.

Wisconsin Musky Fishing
My love for fishing does not stop at any certain specie of fish, and one of the most challenging freshwater fish is the Musky. I love the challenge of these fish, and there are some very big muskies here in the southern part of Wisconsin. I typically spend a lot of my time fishing the Waukesha county lakes for Muskies Pewaukee Lake, and Okauchee Lake are great lakes for big muskies and good numbers of muskies. I will help educate you on when, where, and how to use certain musky baits such as: Top water, Buck tails, Jerk Baits, Glide Baits, Soft Plastics such as swim baits, speed trolling and live bait rigging with big suckers. If you're looking for the hardest fish to catch consistently put in the boat and the most challenging then a Musky is your fish.
* Best time is June - October for the Musky fishing.

Wisconsin Pike Fishing
I spend a good portion of my summer taking clients pike fishing here on numerous Wisconsin lakes. These fish are always feeding and put up a great fight! These are great fish for kids to catch because they a good sized and usually plentiful. Northern Pike are also much under rated and are great to eat; we encourage catch and release of Large Northern Pike or muskies.
* Best time July-October.

Wisconsin Walleye Fishing
Summer is a great time to fish for walleyes. If you're looking to learn how to fish with crank baits, plainer boards, or troll snap weights, fish with lead core, live bait rig, slip bobber fish or jig fish, I will show you what works for me.

Big Catfish
One of the most under rated fish in Wisconsin are catfish. If you're looking for big flatheads or channel catfish, I know lakes and rivers that will consistently produce big fish and numbers of fish. Using live bait, dead bait, stink bait all work for these huge fish.
* Best Time is July - September.

Salmon Fishing Lake Michigan Port of Milwaukee
Salmon fishing really heats up come July and lasts for about 3 months, then the big 4 year old Chinook salmon migrate up the rivers to spawn. We do morning, half day, and evening trips and full day trips on Lake Michigan for Salmon, and trout. I also guarantee you will catch fish or you do not have to pay!! These fish are the best fighting fish in the state and they will surely test your endurance. The majority of my Salmon fishing is done off the port of Milwaukee.
FALL - September-December
Another one of my favorite times of year to fish is fall. Fall is the time of year where I'm literally fishing for everything with an emphasis on Muskies, Northern Pike, Small Mouth Bass, Steelhead and Brown Trout. These fish are now putting on a lot of weight before winter, or "the feed bag".
Starting in September when fishing in Wisconsin I will spend a good portion of time guiding on the rivers for big King Salmon, Brown Trout and Steelhead using mainly spinning tackle or bait casters. I love catch these fish on stand up tackle! If you have not tangled with one of these fish, it's a must to try. Fish over 20 lbs are common with some reaching 30+ lbs. After the kings spawn the Coho Salmon will migrate up river to spawn, followed by Brown Trout and Steelhead. It is a great opportunity to catch multiple species of fish all in the same day, all from shore. I've had days on the rivers where I've caught salmon, trout, pike, smallmouth bass, catfish, and walleyes all from shore, all in the same day.
I also will target smallmouth bass in the fall , and if the timing is right 40+ fish days are not uncommon with several over 18+ inches consistently. I prefer to fish the lakes that yield big smallies and typically October and November are the 2 best months for giant smallies.
Later in the fall I will spend time fishing for muskies & walleyes, I try to target the bigger fish. There is always potential to catch that 50+ inch musky or walleye over 10 lbs each fall.
I spend a lot of time on the water throughout the year, and I have confidence that we will have a positive outcome with each trip!
Some of the Wisconsin lakes I fish are: Lake Geneva, Pewaukee Lake, Okauchee Lake, Delavan Lake, Lake Michigan, and Lake Mendota.
Testimonials
"It was the best fishing experience of my life! Not only did I catch the biggest steelhead of my life, but I caught 17 fish in 1 day with Eric, that's more than I ever thought possible. You'll catch fish!"
David Vanblasser - Milwaukee, WI

"When Eric called me and told me to fly up for the walleye run I trusted him. It was the best single day of walleye fishing I've ever encountered. We easily caught 75+ walleyes and I caught 2 walleyes over 30 inches (11+ lbs) I was very impressed with Eric's knowledge, and ability to put me on fish where there were no other angler's."
Chad Plum - Madison, WI
Fishing Rates
Inland Lakes Guided Fishing Rates
(Walleye's, Bass, Pike, Muskies, Panfish)
6 hour Guide Trip
Each additional person is - $50.00
$300.00
Full Day Guide trip (Inland lakes) 8-9 hours
Each additional person is - $50.00
$400.00
Lake Michigan Charters in boat - and - Steelhead Trips from shore wading the rivers
(Brown Trout, Salmon, Steelhead)
5 Hour Charter Trip - boat Lake Michigan
Each additional person is - $50.00
$350.00
6 hour Steelhead trips from shore river fishing
Each additional person is - $50.00
$350.00
Full Day (8-9 hours) Steelhead or Lake Michigan Trip
Each additional person is - $50.00
$450.00
Ice fishing trips - Brown Trout and Steelhead -- Includes heated ice shacks, bait, and all equipment
8 hour ice fishing trips
Each additional person is - $50.00 up to 3 people
$350.00
Large ice fishing groups (4 persons or more)
$150.00 (per person)
Green Bay Fishing Trip
8 hours Green Bay Trophy Walleye, Musky and Catfish trips
$450.00 (1 person)
Accomplishments
World Record Line Class holder (steelhead)
Featured on Babe Winkleman's Good Fishing numerous times
Featured on In-Fisherman Television numerous times
Featured in In-Fisherman magazine
Featured regularly on John Gillespie's Wisconsin Waters and Woods Television
Featured on North American fisherman Television several times
Featured on In-depth Outdoors Television numerous times
Featured on Midwest Outdoors Television and magazine
Featured on Outdoor Wisconsin television numerous times
Accomplished Tournament Pro Bass, Salmon, Musky, Walleye
Great Lakes Charter Captain
WABTA Bass Team of the year, and Super Invitational Winner
Featured Seminar speaker through out the Midwest
One of the largest websites in the state www.wibigfish.com
Most importantly husband & father of three: Cal , Hanna, and Camille
Dedicated to my father Wayne who taught me the love, for the great outdoors.
PLEASE NOTE: Rates subject to change without notice.
Waters Guided
Menominee River, Iron County
Milwaukee River
Root River
Fish Targeted
Bluegill
Brown Trout
Channel Catfish
Chinook Salmon
Largemouth Bass
Muskie
Northern Pike
Rainbow Trout
Smallmouth Bass
Walleye
White Crappie
Yellow Perch