Lake Noquebay, Marinette County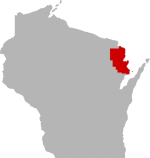 SHARE THIS PAGE
DISPLAYING 1 TO 10 OF 2,017 POSTS
FILTER OPTIONS
FISHING REPORT
MOON PHASE (16%)
Waxing Crescent
FISHING REPORT
MOON PHASE (90%)
Waxing Gibbous
Fished from 8 am till dark. not much till late afternoon then the northern and a bass started hitting med shiners on tip ups. Kept several. Measured 12 inches of ice on our holes. Lots of trucks driving around. But we used an ATV. I would still be wary about trucks. Could really hear the ice groaning when trucks drove past. Was fishing on a line from county park to island closer to island.
FISHING REPORT
MOON PHASE (76%)
Waxing Gibbous
Fished today from noon till dark, a solid 11" of ice where I was at north of the county park, lots of trucks out but I stayed on my ATV.
One 15" bass on a tipup, and some dink perch and that was it for me. Moved around a bunch trying to find the hole I fish in open water but my GPS is in the boat, when I find it I'll drag out the shanty.
I was fishing near the small island on Thursday last week. I dropped my tip up bag and jig pole bag off the back of the rangeron the way back to pines road landing. The tip up bag is green and black and holds 6 tip ups and 6 brand new blue tipz. It would owe you some beer or whatever your choice, plus use of a nice warm shack whenever you want. My number is 920-621-4096.
DISPLAYING 1 TO 10 OF 2,017 POSTS