Pewaukee Lake Reviews
Waukesha County, WI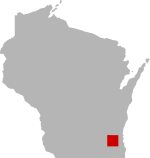 SHARE THIS PAGE
There are currently 45 reviews for Pewaukee Lake.
Tell others what you think of this lake by writing your own personal reveiw:
SUBMIT YOUR LAKE REVIEW
January 9, 2018
"Some good sized Muskies in this lake! Lots of Blue Gills as well. Rocky point is where Iv had the best luck catching the gills and even some decent sized bass."
February 4, 2014
"Pewaukee Lake is a great lake. It has lots of vegetation on the shallower east end. Many people on the lake complain about this, however what they don't realize was that this end of the lake was once a swamp. This great deal of weeds makes for great habitat for fish. The weeds also make it hard to locate and catch the fish, but once you do the're huge. Muskies and Bass are at an outstanding population. This is because people REALEASE THEM! Walleyes are on a major decline because people overfish them and keep every single one! As described by the WDNR, Pewaukee lake is very good at producing large fish and large numbers of fish, however this can only happen if people are catching and releasing these fish. A GOOD GAMEFISH IS TO VALUBLE TO BE CAUGHT ONLY ONCE!"
April 21, 2010
"I caught my fist musky here. I absolutely love this lake."
June 21, 2008
"O.K. place to fish if you need a close place to toss for Muskies but a lot of Carp and Gar in the lake now. Panfish are small."
August 20, 2006
""This is an awesome lake for muskies, I fished here for just three hours and caught my first, second, third, and fourth muskies ever""
July 20, 2006
"Good fishing area, but a little crowded. Cought a few pike and bass, lots of panfish too."
June 29, 2005
"great bluegill and perch fishing around a little island with a sign that says electrical some thing and go about 30 or 40 feet past that (the second lilly pad patch there are bluegill and perch size with crawlers and small jigs (mini mites)"
July 24, 2004
"Spent all day working the Lake. If you're looking for the Crappies - fish the around the little island closedt to the Condo's by Smokies Bait Shop. Watch the Rock warning bouys and fish just to the left of them. I cought two medium size Crappies out of my first five casts! Also, the bass are elusive. My five year old caught a 1+ Lb. LM over by the inlet near (railroad brige by the wooden dock on the left - his first cast - PROUD parents!. We also had bass action near the left edge of the lake by the swimming area and fishing peir! The back end of the lake is DEAD!"
May 20, 2004
"Pewaukee is hands down the BEST trophy musky lake in southern Wisconsin. It's definitely in the top 5 trophy musky waters in all of Wisconsin! Spring and Fall are the best time to hook into a sow because they can be found in shallower water. These two seasons send them into a feeding frenzy that seems to slow in summer. They tend to go deep in summer because of boat traffic and water temperature. Their main forage (suckers, sheephead, etc) also move deeper. Small suckers work great in the Spring along shoreline, Rocky Point, Taylor's Bay (before it gets choked with weeds), and the weedy bay on the west end of the lake. Fish can be caught during the summer in the same areas using crankbaits, bucktails, jerkbaits, etc, and also along deep weed edges and dropoffs by trolling. It's a tough fish on summer weekends because of VERY heavy boat traffic. Fall is prime-time sucker fishing along weed edges, dropoffs, points, rock humps, and around the islands. The 8-12' water off of Rocky Point seems to be an effective place to fish year round (for bass and walleye also). Pewaukee yields several 30-40# fish a year and countless 20-25# fish. Becoming a member of the exclusive 50# club is not out of the question on this lake! The fish are fat from a great forage base and almost all trophy fish are released to fight again! Like most serious musky fisherman, people who fish this lake realize what a wonderful resource they have and want to keep it that way for generations to come. Please practice C.P.R.--Catch, Photo, and Release!!"
February 23, 2004
"There are a lot of nice muskie in here. I was ice fishing one year right in front of the condo's and i lost about a 56 inch muskie!"
February 4, 2004
"I live on the lake and do enjoy it. The lake is plentiful of fish but you have to remember that pewaukee is very over fished and there is alot of traffic being that it is so close to Milwaukee. The fish have seen alot out there so you have to one up them. The weeds can be bad especially on the east end but hope the weed cutters along with the DNR are working on the issue."
August 5, 2003
"it is an ok lake. too many weeds in the summer and too many small bass. There is also too much trafic. we have had a couple musky follows and hits but never landed one. I think bass is the thing to go for on pewaukee."
January 15, 2003
"i caught a 7lbs 22inch LM Bass a few years back and plenty of Crappie etc. but i haven't been back since 2000. are the crappies back there since that kill off a couple years ago??? please someone out there respond "where's the CRAPPIES""
August 19, 2002
"The lake has the best Muskies i've seen, but there is a serious weed problem and there are too many near the pier, so that's all you catch, but great all year round!"
August 1, 2002
"My father and I have fished Pewaukee Lake since I was a kid. Now at thirty-something, I can simply say, if you like bluegills...don't just sit at one spot with a bobber and a worm. You'll know within 5 or 10 casts if they are there. Use a piece of a crawler, try those few times...if you get no response, MOVE! After all, the fish do.Find a dock twenty feet from where you are..or different underwater structure, whatever. We generally have our limit of bluegills (25 each) within a couple hours. (After I've hooked at least one dock by the way!)"
March 26, 2002
"I like this lake but by the landing it is too crouded on no room, but other wise good muskie lake and good panfish and walleye"
March 15, 2002
"Excellent Muskie lake, I've seen guys pull 40"+ muskies out of the lake like it was nothing. With the right technique you'll get a monster."
December 19, 2001
"Great Muskie Lake D.N.R. says shocking surveys shows that there is more muskies in this lake per acre than any lake in northern Wisconsin Its true if your patient and know what your doing here."
December 5, 2001
"It's nickname is the dead sea. Not to much to be caught here except if you catch my musky pole I dropped in the lake."
July 7, 2001
"I've fished this lake for thirty years! It beats any lake in the state for the variety of fish that's available."
June 5, 2001
"Xcellent Fishing If Only All The Water And Jet Skiing Freaks Would Would Go Elsewhere!"
May 3, 2001
"Good Sized Muskies. Fish The Weeds Early, Work The Breaks During Mid Day."
April 19, 2001
"An Exelent Lake For Sheephead, Try The Shallow Bays For Trophy Carp"
April 5, 2001
"Ok Lake To Fish If You Know Where To Go. To Many Small Fish Though."
March 6, 2001
"Used To Be A Excellent Musky Fishing Lake, But Know It Gets Too Much Presure"
March 3, 2001
"Great Walleye Action In Tayler Bay In Winter At Night"
February 13, 2001
"Can´t Find The Walleyes During The Winter, But Large Perch Are In Abundance."
February 7, 2001
"Great Lake Caught 5 Muskie In One Day Two Legal"
September 10, 2000
"Spent Last Summer Here, Beautifull, Laid-Back, Realy Nice Folk, Be Back Soon!!"
June 6, 2000
"Good Early Lake.. " You Forgot To Include The Smallmouths""
June 3, 2000
"Great Lake, Lived On It For 11 Years And Still Rules!!!"
April 6, 2000
"Awesome For All Water Activities!!!"
March 24, 2000
"Quality Fishing & Great Bathrooms"
January 16, 2000
"Loaded With 40-45" Musky-Chartreuse Or Perch Color Lures Work Well-Trolled Or Cast"
January 11, 2000
"Class A Musky Lake Amazing Numbers Of All Fish"
December 27, 1999
"Walleyes In The Weeds Easy Access For Hard Water Fishing"
November 18, 1999
"I Heard The Fishing Is Good On A Boat, But You Cant Catch Much From Shore"
October 29, 1999
"Great Lake 5 Muskys This Year 1999 All 34" Plus"
October 3, 1999
"Good Fishing, But Where Are The Walleyes"
September 27, 1999
"Excellent Musky Lake, Casting Spring/fall, And Trolling In The Summer"
August 18, 1999
"Good And Easy Access To Lake. Always Catch Fish."
August 5, 1999
"Nice Lake But A Lot Of Small Stuff"
July 15, 1999
"Panfish, Muskies And Walleyes Are What I Catch"
July 12, 1999
"Plenty Of Panfish, Northern, But Couldn´t Find Walleyes, Bass Or Muskies-Big Lake I Guess"