Friess Lake Reviews
Washington County, WI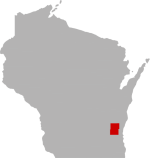 SHARE THIS PAGE
There are currently 17 reviews for Friess Lake.
Tell others what you think of this lake by writing your own personal reveiw:
SUBMIT YOUR LAKE REVIEW
June 12, 2016
"Went 3 days this weekend with slip bobbers, jigs and lindy rigs. Smashed gills in 5-6' with slip bobbers one day, water 69.3 degrees. 36 3/4" Northern with lindy rig and a few large mouth 10-15' the next. Slow fishing Sunday but landed a few Large mouth and Bluegill in 8-12' with lindy rigs and and a slip bobber with a hook and leach. Crawlers worked best on the Lindy rigs and first day with slip bobbers and gills. A leech and slip bobber for the bass. Each day a good time at the lake as long as the speed boats and jet-skis wern't going crazy."
June 16, 2014
"good lake if you are looking for small bluegill not the best i definitely would not recommend this lake if you are looking for a good time"
February 3, 2010
"Great panfish lake. I've onl been there once but we slaughtered the crappies. We had more than 60 of them and had a few gills and perch too and. Some of the crappies were 10-12 inches. Hope to come back for some more"
August 21, 2008
"Great night fishing. 4 bass and 4 walleye"
July 21, 2008
"Catching mostly pan fish. Didn't try for any Walleye but may give that a go next time. There is some nice structure along the shorlines to fish. Looks promising."
December 17, 2005
"I am so sorry guy's we were at Keesus lake, not friess lake. I am going to Friess lake tomorrow morning."
February 13, 2003
"In my opinion, this lake has some of the hottest crappie fishing around. The fish are a bit small, but with a couple more years of fishermen bagging their limit, and weeding out the population, there's going to be some nice size crappies coming out of this lake."
July 2, 2002
"Yes the crappie is excellent but if people are keeping "106" of them in a day it wont be very good for long. Please only keep what you are going to eat. Does anyone know where the northern are hitting now? No luck yet this year there."
January 20, 2002
"This lake has big perch"
December 21, 2001
"this lake has alot of potential if people would let the smaller fish grow.I know their is alot of panfish in general.I think the problem why we have so many small panfish is that we need to keep some of these smaller panfish because I think the lake is stunted with them. I have been fihing down by Walley and Bees for over twenty years . One of my biigest conserns is the boat traffic. You got these big boats with all this horse power ripping up the shoreline we need vegitation to protect are fish habitat. The lake has improved its water clarity. The walleys are taking of and I think thats great. In my opinion this lake could be one of the best walley lakes in Washington county. I think the property owners should try to get some funding to improve the walley habitat. For instance get some gravel dumped in locations where walleys can spaun."
July 24, 2001
"crappies crappies crappies. i have caught plenty of them here. my neighbor D. and melissa caught "106" crappie in one days worth of work.good luck."
March 3, 2001
"Nice Walleyes And Pan Fish"
January 29, 2001
"Great Lake To Spend A Day On."
January 29, 2001
"Great Lake To Spend A Day On."
March 26, 2000
"Good Fishing But Alot Of People"
July 5, 1999
"Good Walleye, Bass, Northern, And Pan Fish Lake. Great Plae To Spend The Day At"