Lake Koshkonong Reviews
Rock County, WI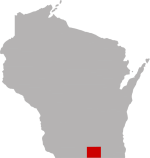 SHARE THIS PAGE
There are currently 19 reviews for Lake Koshkonong.
Tell others what you think of this lake by writing your own personal reveiw:
SUBMIT YOUR LAKE REVIEW
July 16, 2018
"14 catfish 20-24 inchs, water is still a little high for my favorite spots. 1 smallmouth, 3 northerns Sunday Morning. Got the cat suspending crawler off the bottom, spin casting for the northerns."
January 20, 2012
"maybe 20 yrs. from now i will learn it. Very big lake with no structure and no water. But there are big fish in it, i guess i get lucky sometimes."
January 11, 2010
"Tough lake, one day you might go out and get into a pile of fish, and the next you might get skunked. Mixed bag of pretty much any kind of fish found in the area, and they can be found in good sizes, but you have to know what you are doing. Prob best for the walleyes, northerns, and cats. Tons of carp and sheep."
July 28, 2009
"Best tubing anywhere and monster musky and northern."
October 3, 2008
"Good spring and fall lake if you know the lake. They seriously need to dredge it and put more structure and islands in it! Would help the fishing A LOT.."
May 27, 2008
"Man have i caught some serious fish here. I caught lots of cat, white bass and walleye like crazy. Great lake"
February 1, 2008
"I grew up on this lake and river system. It is the best fishery around for multiple species and just having fun."
June 21, 2006
"Good lake to fish (grew up on it). Tough to pattern the fish with not a whole lot of structure. If you can find the crappies they are the biggest I have ever seen. 14-16 inches. Many small northerns with a few random trophies caught. Lots of channel catfish. Bass are there but not in a big number. Good size. Whitebass are everywhere. Troll for them. I seined the shore last summer for minnows and caught 75% carp minnows 10% sheepshead minnows, 10% shiners, 5% gamefish."
April 15, 2006
"A nice lake to take the little ones"
June 9, 2003
"Very large lake. Great for trolling or bait. Very shallow, 8 ft in most places. No coverage however. Great walleye, white bass, catfish, pike, sheephead, and carp. No bass though. Great place to take your kids. Tips: From 17 years of experience Trolling: In the middle of the lake there are 2 points that stick out, one is near the Charlie's Bluff boat landing, and the other is on the opposite side of the lake. Troll back and forth between these points and you WILL hit schools of whitebass. Sometimes at dusk you just can't keep your line in the water. Also, best lure in my experience that will always work is the Heddon Super Sonic. Not sure if these are discontinued but they work wonders. Baitfishing: Best time is always from dusk till dawn. Stick close to shore as that is when they come into feed. Depending on the time of year, minnows will get you walleye and pike, leeches walleye, and worms can hook anything. Mostly catfish though. If cats are your game, get some stinkbait and BRING A NET. Best place for pike and muskee is on the other side of the point I mentioned earlier. That area is a bird sanctuary, a lot of mud, seaweed, and cover. If the lake is choppy, just stick to the river, it's just as good of fishing. Just no trolling."
October 15, 2002
"I saw the carp nets over the weekend parked by my pier. I have never seen such huge Northerns and Muskies. There are cats in there as big as 60 lb. I would not have believed it if I have not seen it for myself. Also, there are carp and Buffalo that look as big as 50/60 lb. I am bothered a little because the crew throw small carp back into the Lake. I sent a note to the DNR but have not been answered yet. Oh, almost forgot, there are some huge Gar there also. I wish i had a video recorder so i could have posted what I saw. I fished clos to the nets and caught 15 eyes, all 10" long. maybe next year will be a good year for my favorite. Good Luck JJFS"
May 16, 2002
"Has some nice goggle eyes, white bass, & crappies. Has virtually no cover & is a very shallow lake. Try trolling to find the schools. Good Northern fishing around Busseyville creek. I've done well on twisters & spinner baits. BEWARE if the wind gets up waves roll from the bottom."
September 22, 2001
"This lake is great in June for white bass; just troll the center of the lake."
June 17, 2000
"I Caught 42 Inches Of Spot Muskie, It Was Cool Lake"
April 3, 2000
"Contains Trophy WALLEYES!!!.......LACK Of Structure Makes It Hard To Pattern Though!!!"
September 10, 1999
"Exellent Northern Pike Lake And Some Good Walleye"
August 9, 1999
"Exl Catfish Ave 4 To 6lb"
August 4, 1999
"Good Lake For Weekend Fun. Great For Children, Not For Serious Fishing. Nice Property And Homes."