Gibbs Lake Reviews
Rock County, WI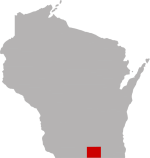 SHARE THIS PAGE
There are currently 9 reviews for Gibbs Lake.
Tell others what you think of this lake by writing your own personal reveiw:
SUBMIT YOUR LAKE REVIEW
August 24, 2018
"New launch this year. A previous post said its a 3.5 hp rating only. This is incorrect. No wake only. No size rating on motors. Fished once last year. No fish. Busy on weekends."
June 15, 2018
"I love fishing this lake. Tons of heavy cover! There is no shortage of nice bass in this lake, you just have to know how to fish the heavy cover. I have also caught a few respectable Northerns in this lake. Gets fished hard on the weekend. Go early or go late, that's the best."
May 25, 2014
"Nice pretty little lake in the rolling hills of northern rock county. No motors over 3 hp, so pretty much canoes, kayaks and smaller boats with trolling motors. Very peaceful. Nice ramp and fishing pier. Good population of largemouth bass and great action if you figure out where to find them. Most of the panfish I caught were very small. There are northern here but i wasn't targeting them. Will come back!"
January 20, 2010
"Only god can catch fish at gibbs lake"
January 20, 2009
"onley good thing abought the lake is big bass verey few pike at one time when people caught and realseed the pike it was good and tiney gills fun for the kids"
August 4, 2008
""Lots of big bass"I love this small lake weedy,but just fish the weed edges with 10 inc" power worm and the pads with 6 inc Gary Yammoto and they will come."
June 22, 2007
"Way too many weeds. Way too many people that think they can swim at the little boat landing. I have caught a nice bass on the north side and some crappie on the south. all I can say is... good luck."
August 13, 2001
"Lots of Bluegill common on worms. Perch love minnows. Work the weeds with minnows or worms for the bass on the north side."
February 5, 2000
"Bluegill And Perch Common On Jigging Poles; Northern Common On Tip-Ups Towards Back Side Of Lake;"