Black Otter Lake (Hortonville) Reviews
Outagamie County, WI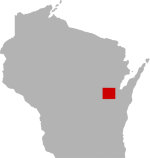 SHARE THIS PAGE
There are currently 24 reviews for Black Otter Lake (Hortonville).
Tell others what you think of this lake by writing your own personal reveiw:
SUBMIT YOUR LAKE REVIEW
April 10, 2013
"I have only been shore fishing for bluegills on this lake. They are a decent size 6-8 inches. I catch about 3 per hour. This lake is full to the top with weeds. Never bass fished here but I think it would be good fishing soft plastics but crankbaits and such would get snagged up. Good luck."
September 26, 2011
"Fished for the 1st time today. I focus on bass only. Lake looks good. The water was fairly clear. There are a lot of weeds. I caught 3 bass, biggest measuring 18". Caught about 10 northern as well, biggest measuring 33". All fish looked to be eating well, but I did not see many baitfish. Will fish again."
December 21, 2008
"not a bad lake to bring the kids to, but don't expect any monsters to come out of this lake. to bad they drained it"
November 27, 2006
"Its a good lake once you find the fish you can do really good. So Git R Done"
June 25, 2006
"Exelent lake for panfishing and takeing kids. You will catch the bass and sometimes the northern. i would say the best luck i had for bass and northern would be a top water scum frog."
February 3, 2006
"first year ever doin any sort of fishin....well ice fishin anyways i like ice fishin...i do well with all kinds of fish here"
December 14, 2005
"i do well panfishing on this lake.60 gills on 12-10-o5 some size.But i was wondering if anyone could give me some info on where to go for notherns.Ive set up tip ups with shiners and always nothing.anyone have some helpful hints.thank you it would be greatly appreciated.good luck to everyone."
August 16, 2004
"well, i live in the area and i have had quite a few good times out there, this lake is very weedy as many of you know, but it is a very good habitat for panfish and bass.. and i have also had good northern fishing through the ice, i have heard of many 35" northerns come out of there in the winter, and even a few 40's but you have to work for them... good luck to all..."
July 2, 2004
"Been to this lake 3 times now and havent caught too much. We Caught 2 bluegills and seen 1 large mouth caught and one nice gill. Not very impressed :("
June 4, 2004
"This is the lake I learned how to fish on and I've caught TONS of panfish.(Many over 8 in. Caught a perch 9.5 in. Caught one Pike and a couple of bass with spinners"
May 7, 2004
"I haven't been fishing the lake very long but have already caught tons of medium gills,but no bass or pike though and a couple perch. Really a lood lake for Gills though."
December 9, 2003
"when the wind blows to hard to fish bago this little lake saves the day!!lots of gills and perch ,not to mention the bass..my kids learned to fish on this lake when they were 2"
March 28, 2003
"great ice fishing for all kinds of fish but when the panfish are spawning their is nothing better but with all the weeds in open water its hard to get around but besides that i love this lake alot"
November 14, 2002
"alot of bluegills and weeds great ice fishing action for pike and bass too perch bass and pike get very nice"
February 24, 2002
"Lots of small bluegill caught off of island, barely keeper size. I've also caught a few tiny pike closer to the banks. No keepers yet, but still fun to catch."
December 29, 2001
"The lake has tons of small bluegill some get nice sized some real nice perch also has northern largemouth crappie and bullhead crappies are hard to find. ALOT of weeds not hard to find bluegill"
June 20, 2001
"nice blue gill and bullhead cant find the northern bass or crappie of land"
May 2, 2001
"Excellent For Decent Bluegills And Crappie In Summer. But Lots Of Vegitation."
March 29, 2001
"Great Place For Kid, And Some Big Northerns Thru Ice, Lots Of Vegitation"
February 18, 2001
"Excellent For Bluegill Fishing"
February 1, 2001
"Great Ice-Fishing For Bluegills, You Just Have To Find Them"
June 26, 2000
"Good Bass And Blue Gill Fishing"
January 31, 2000
"A Great Little Lake For Ice Fishing Can Produce Above-Average Northerns And Decent Bluegill"
September 2, 1999
"Weeds Are Very Thick Due To Farm Runoff, Big Crappies And Bluegills Easy To Catch Bring Kids"