Katherine Lake Reviews
Oneida County, WI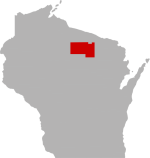 SHARE THIS PAGE
There are currently 10 reviews for Katherine Lake.
Tell others what you think of this lake by writing your own personal reveiw:
SUBMIT YOUR LAKE REVIEW
July 2, 2020
"I lived in Minoqua. Easy access, Nice cove. Beautiful islet if you can find it."
August 12, 2017
"For being a northern lake with low pressure I figured some big smallies would be caught. Caught a lot of fish but low quality. Great structure has potential to hold big fish."
June 19, 2011
"THIS IS A GOOD NUMBERS LAKE FOR BASS & WALLEYES! FISH EARLY OR LATE. FISH DOWN TREES & ROCK PILES. MUSKIES ALSO PRESENT IN THE LOW PRESSURED LAKE. FIND ROCKS & WOOD AND YOU WILL FIND FISH. GOOD LUCK KEEP YOUR LINES TIGHT"
June 15, 2004
"Very clear water, very little weed growth, lots of rocky areas. Doesn't seem to get a lot of pressure in comparison to other lakes in the area. Work the steep rocky shorelines for smallmouth."
February 24, 2002
"Fish this Lake at first or last light! Cloudy days are great! A lot of smallies. small eye's!! Watch out for the rock piles!!!!"
April 17, 2001
"Lots Of SmallWalleyes, Never Caught One Over 19 Inches."
March 18, 2001
"Big Smallmouths,walleyes Rock Bars"
March 5, 2001
"Fish This Onne At Night Or Cloudy Days Its Gin Clear. Walleye, Musky, Smallmouth And Perch!"
August 21, 2000
"Like Tomahawk A Very Clear Lake. Hard To Fish In Daylight? (Fish In Numbers!)"
June 3, 2000
"Walleye And Smallmouth Are Good Size And Number."