Lake Noquebay Reviews
Marinette County, WI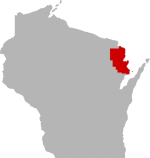 SHARE THIS PAGE
There are currently 25 reviews for Lake Noquebay.
Tell others what you think of this lake by writing your own personal reveiw:
SUBMIT YOUR LAKE REVIEW
April 1, 2012
"Very small bluegills, bass,northern and perch and lots of them. Not what it used to be it is 2 over populated and the fish dont get big anymore."
February 21, 2011
"The Best bass lake i have ever fished. Opening day of fishing caught 14 bass all around the docks."
November 19, 2010
"Nice landings that have everything, goodthing as they are very busy. Panfish WAY overpressured but still puts out some ave. bl. gill and crappies, the perch are pinky finger size. There are some browns but have yet to see a brook trout. Beware if driving on the ice in winter there are bad spots that you need to know about!"
August 21, 2009
"one of my favorite lakes. TONS of small northerns and great panfishing. If you try hard enough you can catch walleyes too."
May 1, 2008
"A GREAT PLACE TO LIVE. GREAT FISHING - BOATING OR JUST A GREAT PLACE TO SIT BACK RELAX AND ENJOY THE BEAUTY. JOHN T."
February 17, 2006
"Been fishing Noquebay for more than 20 years. Usually always been able to catch fish especially when we were kids when we were all going for the panfish. Since we've gotten older though we like to go for the bigger fish in the lake. Always been able to pick up northerns not huge ones only once in a blue moon. If you find the right place at right time you'll catch a ton of fish. Overall a good lake except during the days of Holidays way to many people and jet skis and power boats flying around that's the time to go golf."
January 29, 2006
"I have fished this lake for 20 years and have to say that it is not what it used to be. Don't get me wrong there are fish to be caught but good luck finding them in all the weeds. Did I mention the jet skis and ski boats??? Good luck"
January 20, 2006
"I fished the lake last summer with a friend and his son. We caught all kinds of different fish and I even lost a muskie. This is a lake I would like to get to know better. The lake seems larger than the number of acres would indicate."
January 19, 2006
"few gills one northern and couple smallies through the ice. reccomend going worth the trip good time."
May 26, 2004
"havent fished it much, but i know theres many large game fish as well as large pan fish"
May 24, 2004
"Great lake if you can find the "humps""
May 13, 2002
"No better place to bring the guys for a weekend fishing trip open water or ice! Big Bass, Northerns, Crappie, Bluegill...The list keeps going on and on!"
August 24, 2001
"One of the best for ice fishing. Saty away from the springs."
April 9, 2001
"Very Clean Must Hunt For Weed Beds For Best Fishing"
January 11, 2001
"Besides Big Gills And Bass, Brown Trout, Muskie"
August 10, 2000
"Excellent Lake/ Giant Bass And Northern / Excellent Panfish/ Dont Forget About Walleye"
August 7, 2000
"Lake Noquebay Is A Great Lake For Everybody. It Has The Best Bluegills Around, And Many Of Them."
June 19, 2000
"Fished This Lake For 40 Years! Clean, Beautiful, And Full Of Bass & Panfish!"
June 9, 2000
"Lake Is The Best! Anybody Can Cacth Anything Easy! Kurty Doesn´t Want Anyone To Fish "his" Lake!"
April 25, 2000
"Best Lake Around Here For Gaint Bluegills"
March 13, 2000
"Fished This Lake For 15yrs And It Is Terrible!"
July 23, 1999
"Great Lake For BLUEGILLS.JUNE Also Great For Largemouth."
June 3, 1999
"The Funnest Lake U Can Use One Lure And Catch Most!!!!!"