High Falls Reservoir Reviews
Marinette County, WI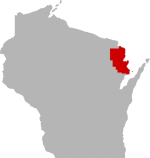 SHARE THIS PAGE
There are currently 25 reviews for High Falls Reservoir.
Tell others what you think of this lake by writing your own personal reveiw:
SUBMIT YOUR LAKE REVIEW
November 14, 2015
"Great Musky and Bass water.....when boaters are not present. Make water no wake."
August 23, 2013
"Don't believe the hype that this lake will be like fishing in Canada. The scenery is gorgeous but the power boats and tourists are more numerous than the mosquitoes."
March 15, 2012
"Fished here last summer and got a cooler full of large mouth bass and northern. we just fished in the shallows."
July 14, 2010
"It's a pretty good lake for shore fishing, I always catch a bunch of panfish, Bass and an occasional Northerns."
May 7, 2010
"if you want to watch boaters zoom by you and make wakes all day long this is the place to be 4 am to 1 hour aftersunriseto get fish before the hung-over people come back to abuse the waterway again"
July 23, 2008
"Crowded, overfished and way too many inconsiderate boaters/jet skiers. Should be a better fishing lake, but it just is not. Don't waste your time."
December 29, 2006
"been going up there 29 yrs.DNR killed the fishing by draining the river 3 times in the past 20 yrs.To many crazy boat drivers that think a wake for there kids on a water tube is more important than safety!! Safety comes first.Please practice catch &release of panfish and trophies."
June 16, 2006
"Great Walleye and Smallmouth fishing. Fish early or late, and know what you are doing. Have never had a bad outing yet!"
August 22, 2005
"Excellent fishing lake, scenic feels like Canada...."
March 7, 2005
"This lake is highly pressured all year round. Every time I have ever ben there it has been over crowded. The only place that you can really fish if in the no wake zones. I have fish High Falls about five times and never caught a fish."
May 26, 2003
"To many boats, not enough fish."
May 16, 2003
"This waterway is very abused by weekend fisherman and power boats. It has some nice places to camp with the kids but fishing is tough. This place looks like a zoo come ice fishing time but you can get the crappies if you can find some deep structure(sticks and stumps)."
January 5, 2003
"Muskie fishing was good but since the dnr destroyed the fishing by draining the lake we haven't caught anything"
March 11, 2002
"SUMMER FISHING IS BAD BECAUSE OF ALL THE PEOPLE AND ICE FISHING -THE FISH JUST ISN'T THERE."
January 3, 2002
"A lot of small panfish but haven't had much luck with walleyes or bass. Should plan to fish during the week because summer weekend boat traffic can be like the Normandy invasion, and it's getting worse."
May 21, 2001
"Great Lake For Walleye And Largemouth Bass!!!"
January 18, 2001
"A Lot Of Panfish, Bass In Lily Pads, Abundancy Ofmusky And Northern A Long Weed Edges!."
October 26, 2000
"Great Scenery, Excellent Swimming, Very Crowded In Summer"
August 24, 2000
"A Dead Sea In Summer. Not Even Panfish Biting. Go Elsewhere."
August 17, 2000
"One Of The Best Smallmouths Lakes I´ve Fished! Let´s Keep It That Wy, Practice Catch And Release"
August 10, 2000
"This Lake Is Excellent / Walleye In Deep Water / Musky On Weedlines"
January 16, 2000
"A Quality Lake For All Species,so Much Structure It´s Confusing To Fish"
July 26, 1999
"Panfish Are Abundant. Also Many Bass, Walleye, And Northern."