West Lake Reviews
Langlade County, WI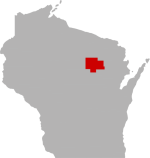 SHARE THIS PAGE
There are currently 1 reviews for West Lake.
Tell others what you think of this lake by writing your own personal reveiw:
SUBMIT YOUR LAKE REVIEW
August 10, 2001
"This little lake used to have abundant small northern pike and lots of decent sized panfish. I have tried the lake several times during the past 2 summers and caught nothing but stunted panfish. It is another lake that could use some management to restore it as a viable fishery. Sometimes I wonder if the DNR does all they COULD do to maximize our natural resources."