Tyra Lake Reviews
Langlade County, WI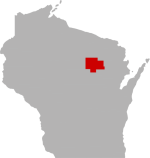 SHARE THIS PAGE
There are currently 1 reviews for Tyra Lake.
Tell others what you think of this lake by writing your own personal reveiw:
SUBMIT YOUR LAKE REVIEW
November 27, 2014
"This Tyra Lake used to have a lot of crappies in it. I can't say f it still does. The one on the south side of the fire lane had nice trout, but I think they are all gone now. There were both rainbow and brook trout. Either one might be worth a try if you have some time to kill some day."