Pickerel Lake Reviews
Langlade County, WI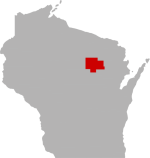 SHARE THIS PAGE
There are currently 11 reviews for Pickerel Lake.
Tell others what you think of this lake by writing your own personal reveiw:
SUBMIT YOUR LAKE REVIEW
February 18, 2017
"Spent a couple days on this lake and didn't exactly slay them like I hoped-thats fishing. I have a camera and was impressed with the weed growth wherever I went. with that said a lot of lookers showed up but very few takers. I did get a couple nice gills on a very small chartreuse jig but that was the day we had to leave early for home. Had a few flags pop but the pike were on the small side. As per another post it was pretty bumpy travel out there but just had to take your time. I hope the ice sticks around till the middle of march to try it one more time."
September 24, 2012
"This is one of my favorite lakes to fish. You can find different spots all over the lake to catch fish. You can catch a variety of fish in this lake including bluegill, perch, crappie, bass, northern, and bullhead."
August 15, 2006
"Like most of the people said Nice Sized Bass and Panfish, northerns small but abundantt we went out last winter with 7 guys and caught 83 northern, but only 28 of them where 23 inches of bigger, biggest one was 34 inches, also caught a big 28 inch walleye in here but it is the only one i have ever caught from in here."
March 21, 2006
"I do really good for gill in the summer and really good for perch in the winter all around a good lake in my opinion"
February 13, 2006
"Have been fishing pickeral for over 20 yrs.have been noticeing the large mouth bass had a huge come back since the knew size limit of 18 inches also been doing good on perch and gills off the dock and and in the boat and on the ice all in all a good lake"
January 11, 2006
"My wife and I just bought a cabin on Pickerel. We love it there . The fishing in '05 was great . Lots of big blues & suns. The Bass were killing the live bait . Our biggest Bass was 17" ."
June 6, 2004
"Great lake for big Bluegill if you know where to find them. Largemouth are making a come back and can be found in good numbers, large fish are there but they didn't get big by being dmb. Perch are above average in size and good numbers but again the go in streaks. Crappies are prolific in the spring."
June 12, 2003
"Great Lake tons of big gills, perch, and decent crappie. Above average largemouth. The pike however are puny and skinny and there are lots of them. Very easy to limit out on 8-11" bluegils."
August 10, 2001
"Fished Pickeral Lake several times during late July and early August. Caught limits of small to medium sized Northern every time out. Also had 1 night where we limited out on jumbo sized perch. Bluegill action was spotty and we caught no crappie. My son did catch 1 nice sized largemouth bass. The fish we have eaten were delicious. All in all, a nice lake."
April 1, 2001
"Good Panfish Small Northern"
January 12, 2001
"Great Panfish Lake. Lots Of Small Northern And Some Decent Sized Largemouths"