Mueller Lake Reviews
Langlade County, WI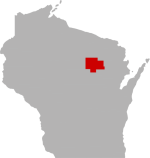 SHARE THIS PAGE
There are currently 6 reviews for Mueller Lake.
Tell others what you think of this lake by writing your own personal reveiw:
SUBMIT YOUR LAKE REVIEW
July 8, 2018
"Heavily used lake that is borderline not worth fishing. The water is extremely clear and panfish and bass are plentiful BUT, weekends this lake is overcrowded and you are usually following a row of boats fishing the shoreline or finding a peice of water to defend. Lots of speed boats and water toys make this lake a nightmare to fish seriously. If you do happen to be on it when it's not being used by everyone in the area you can have a pretty good time fishing for bass , Pike and pan fish. I personally have not caught them very big but lots of them. If you like being rocked around by the wake of other boaters and fighting for shoreline this lake is for you."
June 5, 2005
"Just fished this last weekend. Caught alot of nice largemouths. 15 to 20 inch but nothing for the wall yet. Put them all back to get bigger. I love this lake. Fished this for past 15 years and never saw more than three boats on the water including myself.Bass fishermans dream. Use a crawler harness with a propellar and the rest is history."
May 9, 2003
"Nice size bass present. Caught some real nice perch and bluegil from shore. Really fun to fish. Bluegil are caught from beds in early july and late june."
March 24, 2003
"This is a nice swimming lake, and fun to fish. However, most bass are small. You can catch a bunch by casting rapalas around the shoreline cover. However, you'll probably be the 10th boat to work any given piece of cover on any given weekend. This lake is heavily used by waterskiers and jetskis. The narrow shape of the lake makes it difficult for them to give you any space. It's like being a fly in a flushing toilet at times. Fish early morning or dusk/dark to avoid this. Bluegills and northern pike run small. Occasional decent walleye can be caught. Rumors of a couple of local-stocked musky in this lake. Have seen trophy bass while snorkeling."
January 17, 2002
"This lake is a bass anglers dream in the the spawning months of spring as well as throughout the summer. Panfish are plentiful but the big slabs are hard to find in mid summer. The vast amount of panfish supports a great number of Northern Pike-Many linebreakers!!"